Site Build it! or SBI! is an all  in one webhost and website building system that goes above and beyond most other systems/software.   The thing is that it can be  very overwhelming for massage therapists because it provides so much information on how to build a website so I am going to simplify it for you!
You first sign up for the SBI! website system and it is just ordering your system.  The system includes a domain but you do not order that until day 5 of the action guide.
The first 5 days of the action guide are usually the overwhelming part.  It is about brainstorming keywords for your topic and planning your website.   The focus on brainstorming and using the SBI!  Brainstormit! is about searching for keywords that are in HIGH demand (lots of people searching) but they are in LOW supply (not many sites out there using them so you can dominate for that keyword.)  The problem is that the main way people search for massage therapists is by just doing a search for massage your city.  When you put those words into the brainstormit! Software, it usually comes back with pathetic looking results.   You just have to ignore that and go on.   The main reason for using the brainstorming software is to find a site concept but you already have a site concept – Your massage business!  Don't get caught up in SBI! confusing brainstorming process – it is more for someone who is creating an online business to sell products or other people's products or information.
The purpose for brainstorming then becomes to really take a look at your business and find out what people are searching for too in relation to massage or your specific area of business.  If you focus on stress massage or clinical massage, the direction of your brainstorming might be really different.
You are really just brainstorming ideas for your domain.  I still think the best domain will include the words massage and your city (or area of town or something related to location).
Your domain is also part of search engine optimization (SEO).
From the Action Guide that comes with SBI!:
If you have an established business, you already know the general niche/concept of your site. Now you need to determine the best way to approach your concept. Just like the jazz example above, you can "spin" any niche in many directions…

reflect what "solution" your business provides, or…
target a particular segment of your market, or…
deliver a specific angle, etc.
So you can play around with finding a specific angle for your website concept and domain.  Think about your specific technique and what it does or think about a target market like athletes or stressed out office workers.
 Planning the Pages of Your Massage Business Website
The first 5 days of the action guide are really about planning your site and getting to registering your domain name.  If most of the domains massageyourcity.com are taken, then you have to find a way to spin things to get something that will work and help your SEO.
It is also about planning the pages of your site.  All pages must connect to the next one through links and be in a tier formation.  (Most sites done on WordPress do not do that because it is not really part of the way posts, pages and categories work in WordPress but you can do it).
This is a diagram taken directly from the SBI! action guide to help you understand the process of making a website.  KFCP = Keyword-Focused Content Pages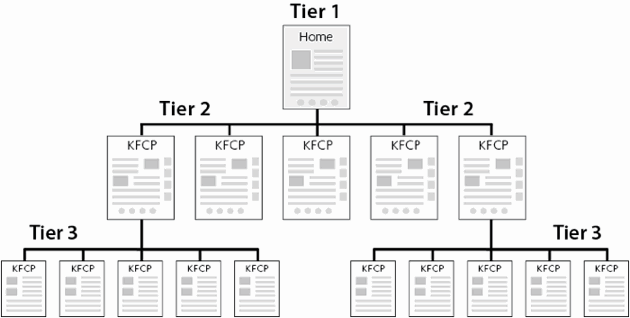 With your massage business website, you will want to shoot for the minimum of 30 pages of content.   I recommend 30 to start with and get your site going.  If you still aren't getting the number of clients that you need, then write more.  There are a few reasons for more content.  First it is a part of SEO.   The more pages (articles), the more you look like an expert in Google's Bot's (eyes).   Google wants to give their searchers the best information from the top experts.  They want websites that show that you are an expert, authority and are trustworthy  (See Is your Website good enough to E-A-T).  You do that with  CONTENT!   Pages and pages of well written, shareable content.   It has to really address your readers/potential clients needs and answer the question – what solution do you provide?   SBI! also has one of the best ebooks on writing content called Make Your Words Sell that you can read for free.
After you read that and plan your content, you will get a better idea of what domain will help you the most as far as Search engine optimization.  On Day 5 of the SBI! action guide you choose the best domain for you.
It is my recommendation to skim through the first 4 days of the action guide, learn how to use Brainstormer software and plan the pages of your website.   Then choose your domain name (included in the price of SBI).
Then Build Your Massage Business Website to get the clicks/new clients.
Building Traffic and Massage Clients
The more traffic you get to your website, the more opportunities to make clients out of the visitors.   It starts with learning how to create Keyword focused Content Pages and learning how to write content for the internet.  It is part using keywords strategically throughout the pages and also about learning how to create metatags for your pages.  The metatags are the hidden part of the site that actually shows up in the actual search listing.  Your metatags are what will make people click on the listing so it has to be appealing and direct to get more clicks/clients.
The more pages you create, the larger your target for Google to find you.
The other part of building traffic is about getting other websites to link to you or getting links to your website from other websites.   Links are actually how search engines work – they follow links from other sites to find more sites.  The more links you get, the better but they also need to be quality links.  In the past few years so many people have tried to take advantage of the backlinking strategy, that they really overdid it and made Google mad.  Now Google will penalize your site if you get too many links from spammy websites.   All of the directions that you need to create a site like this is all included in your fees.  Complete step by step instructions, a special section for local business results and many other articles and resources including help forums and SBI support to help you every step of the way.
Which Webhost then?
Weebly Massage Websites  (read more about using Weebly) Easiest to use and learn but  Limited directions on search engine optimization, writing for the web and design help. Least expensive.
WordPress Websites  (read more about using WordPress) More of a learning curve to use.  Learning is on your own watching random Youtube videos or reading through free WordPress Documentation.  You may have to set up and install WordPress.  Once it is installed, it needs to be maintained for security issues and updated.  Plugins fail when in conflict which may leave you without a site.  Back up.  Domain plus hosting, plus designer to help with template and help you when it gets out of whack. Update 02/28/2015: I no longer recommend WordPress for massage therapists.  It is no longer the simple, user friendly software that it used to be.
SBI Websites (order now link).   – The powerhouse of websites and systems.  Learning videos and complete action guide included.   Learn to use the blockbuilder with video demos and each feature has documentation on how to use.   Analyze pages.  Brainstormer Software.  Domain Included.  Complete directions for how to get links to your site.  Also complete instructions on how to get your website to start making you money directly from your website while you do massage.