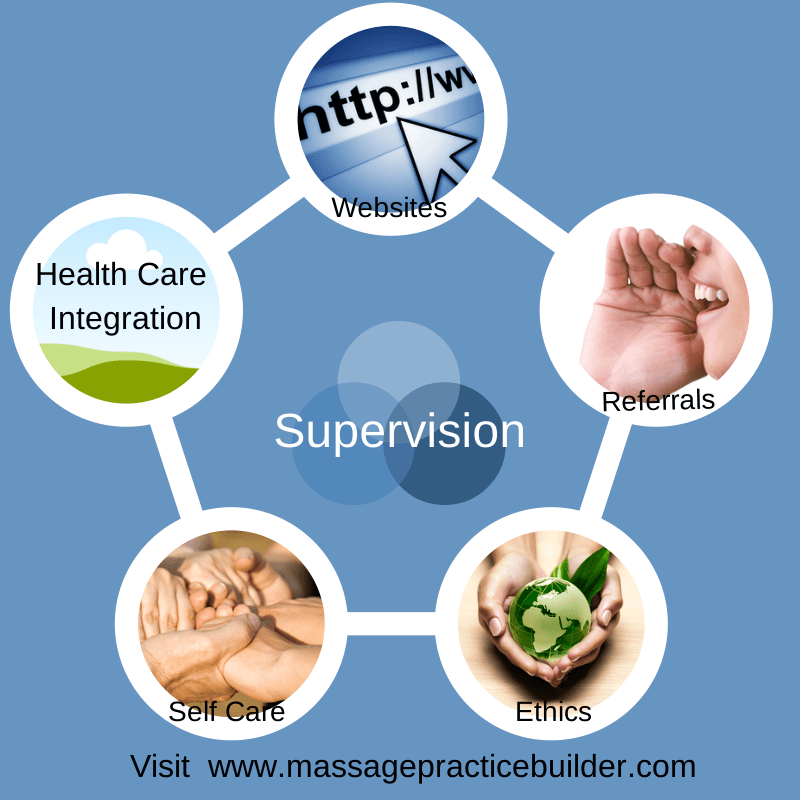 Building a Successful Massage Business starts with creating a strong foundation for your business – one that it can grow on for years and years to come.  It will be able to withstand the many ups and downs of the economy as well as any personal challenges you might face in the process.    A strong foundation will rest on your vision for your business and having a clear vision of  your Ideal Massage Client .
The Ideal Massage Client will appreciate you and be loyal to you through many years and will send you all their friends and family members making it much easier for you to build your practice.   Once you get a clearer picture of who your ideal client is, all of your marketing efforts and business decisions will often fall into place much easier.    You will be able to set boundaries around your client interactions and create business policies and procedures that support you on this very exciting journey.
1 ) Websites that Work for Your Massage Business
(Including Social Media)
The basic formula for building a massage business is to start with a Solid website that can bring you most of your ideal massage clients.
When a website is done right -it will bring you people who are already looking for massage.  It can also work to bring you more of
your 'ideal clients' – those people who appreciate massage already and understand the value of massage.  Your optimized and content rich website will help you attract your ideal clients.   People who are already searching for massage using keywords like 'massage, your city' will find your website.  Once they get there, an information rich website will ease their fears and build trust so that they will make the call or use whatever system you have in place for getting clients to call.   Those clients are also more willing to freely refer their friends, family and co-workers to you!  A Website that Works will be optimized for the search engines and created with the potential client/client in mind.  It will be content rich and educate your potential clients.   A good website will also make you money while you work doing massage through affiliate income or creating your own info products.  When people read it they will begin to trust you right from the start, making your work easier.
2.) Creating a Referral Network for Your Massage Business
Building a strong referral network – or word of mouth marketing is one other way to also build your ideal massage business.  Networking is about building relationships with others.  It is also about learning about others first!  Once you get to know other people especially doctors or other health care providers, you can
decide who will best fit your business model and philosophy on healing and work to build a strong relationship.  They will willingly refer people to you!
If you have a website that works, and focus on getting your ideal clients, that should be most everything you need to get all the referrals you
need.  Your ideal client will willingly refer all their friends and family members to you – without rewards or incentives!  Just say No to Rewards and Incentives!
3.) Ethics :  The Foundation to Stand On.
Building a solid foundation for your massage business starts with creating boundaries in the form of policies and procedures that support your business and create a foundation for growth and opportunities.  Studying ethics and creating your own personal code of ethics as well as getting support in the form of peer supervision and peer supervision groups will help you in building the business of your dreams.    Each client and potential client brings an opportunity to take a deeper look at yourself and learn about yourself.   As you learn to work with clients from a place of 'the client always comes first' , you will learn many things about yourself and will help you grow as a person and as a professional massage therapist.
As you travel along the rocky road of becoming a massage therapist who serves people rather than helps them, you will find a vast and amazing world of healing and inspiration along the way.   Serving is much different than helping as you will find out from reading this website (parts of which will be turned into my next book!)
4:) Self Care:  Taking care of the Caretaker
Self care is really how you put this all together into a successful massage business.  I have found that the being a massage therapist is more about taking care of yourself than taking care of clients.  Taking care of yourself includes everything you do:  by choosing to work on  your ideal client,  creating a strong foundation for your massage business to grow by studying ethics, your own values/beliefs, creating boundaries that support you,  by marketing your massage business so that you have enough clients, taking financial responsibility and taking care of yourself physically, mentally, emotionally and spiritually.
5.) Massage Insurance Billing: Putting the Care Back in Health Care
Billing insurance for massage is also a great way to fill your practice with clients.  People who are injured in car accidents or at work usually need regular weekly care for a specific amount of time until they are better.  Most states will allow you to bill for work related injuries and for car accidents.  WA and FL allow you to bill health insurance.  The Affordable Healthcare Act has provisions in it to allow 'all categories of health care providers to bill including Massage Therapists.  It is imperative that you get involved with your local AMTA Chapter or other group working with the insurance commissioner in your state, to get massage covered by health insurance under this act.  You can learn more about massage insurance billing and learn how to bill in my book on billing – Insurance Billing 101 for Massage Therapists and also share what you know or ask questions in the insurance billing forum on this site. Consider becoming a mentor to others to teach others how to bill.  The more people there are that are billing, the better our chances when working with insurance companies on things like fee structures and benefits.  Most insurance companies and doctors do not yet understand that massage can save the insurance companies money and the patients recovery time and help avoid surgery. (That was the one thing that the insurance companies here in WA used as a reason why they didn't want massage to be covered – they thought it would be an expense rather than a savings.)
 Massage Clinical Supervision is the Glue that holds the 5 steps together and helps support you in becoming a successful massage therapist!
Supervision is a process of working with a more experienced therapist or a counselor to really learn more about yourself and your practice. It is about taking a look at your unique situation and learning to put yourself first and understand the helping process.  Supervision is a place where you can feel heard and feel supported.  It isn't about someone giving you advice or telling you what to do.  It is having someone listen to your deepest fears and concerns about building a massage business.  It is dealing with the daily challenges of being a massage therapist.  In the process of supervision, you will also take a deeper look at your issues around helping, setting boundaries and taking care of yourself.
Save