The No Groupon, No Referral Fees, No Discount Massage way of building a successful massage business is a process of learning massage business basics combined with the 5 pillars of success:
Creating a Website that Works – One that gets you most of your clients. When a website is done right it will bring you people who are already looking for massage. People who are already looking for massage often already appreciate and value massage. Your optimized and content rich website will help you attract clients who are ready to be repeat clients and refer their friends and family members to you. Your information rich website will ease their fears and build trust so that they will make the call or use whatever system you have in place for getting clients to make appointments. Your Google Business Listing will direct people to your website and also book clients directly.
Learning how to rebook clients and understand their reasons for not rebooking (It is not what you think). Rebooking massage clients after their first session is the next pillar for your foundation of success as a massage therapist. Getting them on the table for their first session is usually more costly than getting repeat clients so focusing on getting clients to come back is essential. People will naturally come back when they have found your first session to have value and have come to trust you as the expert that you are. Getting people to come back involves learning about what keeps them from coming back so that you can put a plan in place to overcome these objections.
Getting Referrals. Learning how to get your current clients to refer others to you and to get other businesses/doctors to refer to you. Building a strong referral network or word of mouth marketing is one other way to also build your ideal massage business. Networking is about building relationships with others. It is also about learning about others first! Once you get to know other people especially doctors or other health care providers, you can decide who will best fit your business model and philosophy on healing and work to build a strong relationship. They will willingly refer people to you! If you have a website that works that attract people who already value and appreciate massage they will also send their friends and family members to you naturally. Just say No to Rewards and Incentives!
Studying ethics and setting boundaries especially your policies and procedures that support you. Building a solid foundation for your massage business starts with creating boundaries in the form of policies and procedures that support your business and create a foundation for growth and opportunities. Studying ethics and creating your own personal code of ethics as well as getting support in the form of peer supervision and peer supervision groups will help you in building the business of your dreams. Each client and potential client brings an opportunity to take a deeper look at yourself and learn about yourself. As you learn to work with clients from a place of 'the client always comes first' , you will learn many things about yourself and will help you grow as a person and as a professional massage therapist. As you travel along the rocky road of becoming a massage therapist who serves people rather than helps them, you will find a vast and amazing world of healing and inspiration along the way. Serving is much different than helping. Helping often leads to burnout. Burnout is really often a case of boundaries that need shoring up to support you in your work.
Self-care which is more than just taking a vacation. It begins with having enough clients (money) to take care of yourself. Self care is really how you put this all together into a successful massage business. I have found that the being a massage therapist is more about taking care of yourself than taking care of clients. It is more than just getting regular massage and taking vacations. It is about getting the clients you need to be profitable and keep your business going. It is about boundaries and getting the support you need to be strong to enforce them in ways that support your business and the therapeutic relationship.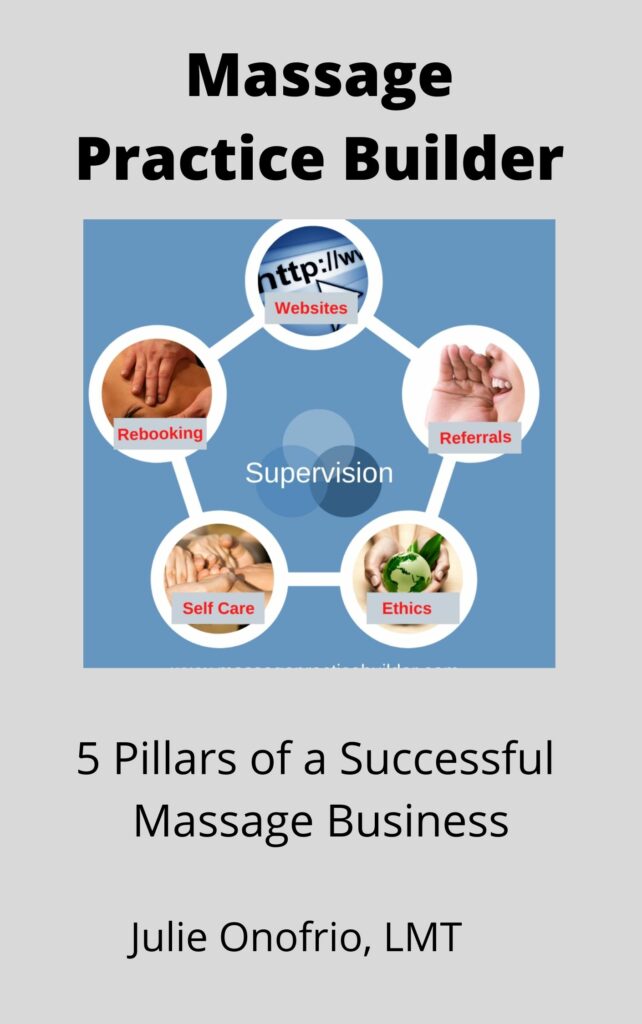 Massage Practice Builder – The Book
$24.99 PDF Download directly to your computer.
Puchase now through Clickbank.com secure servers.

Massage Practice Builder – this website – has been online since 2002. As a massage therapist for over 34 years, it has been a place where I have shared what I have learned over the years about starting and running a massage business. With over 150 articles and information here is now available in a book of over 200 pages!

Starting and running a massage business takes perseverance, business skills and motivation. It is about starting where you are at with the tools and resources you have and doing what you can, little by little to create the massage business that you want.
As a sole proprietor, you are in charge of doing everything. You do the marketing, bookkeeping, booking, rebooking, getting referrals, create your website, manage your Google Business listing and all while giving massage sessions.
Starting with Massage Business Basics and then focusing on what I have found to be, the 5 pillars of a successful massage business, you can learn as you go.
The 6th and Optional Pillar: Insurance Billing
Almost every week for the past few years, I have been seeing more and more associations, legislators, doctors and others calling for the inclusion of massage therapy in healthcare to help combat the Opioid Epidemic and pain.
Massage Practice Builder (The Book) contains an overview of billing and helps you look at whether or not you will want to bill insurance. If you do, you will need my other book the Massage Insurance Billing Manual.
Billing insurance for massage is also a great way to fill your practice with clients. People who are injured in car accidents or at work usually need regular weekly care for a specific amount of time until they are better. Most states will allow you to bill for work related injuries and for car accidents. WA and FL allow you to bill health insurance.
You can learn more about massage insurance billing and learn how to bill in my book on billing – Insurance Billing 101 for Massage Therapists and also share what you know or ask questions in the insurance billing Facebook Group. Consider becoming a mentor to others to teach others how to bill. The more people there are that are billing, the better our chances when working with insurance companies on things like fee structures and benefits. Most insurance companies and doctors do not yet understand that massage can save the insurance companies money and the patients recovery time and help avoid surgery. (That was the one thing that the insurance companies here in WA used as a reason why they didn't want massage to be covered – they thought it would be an expense rather than a savings.)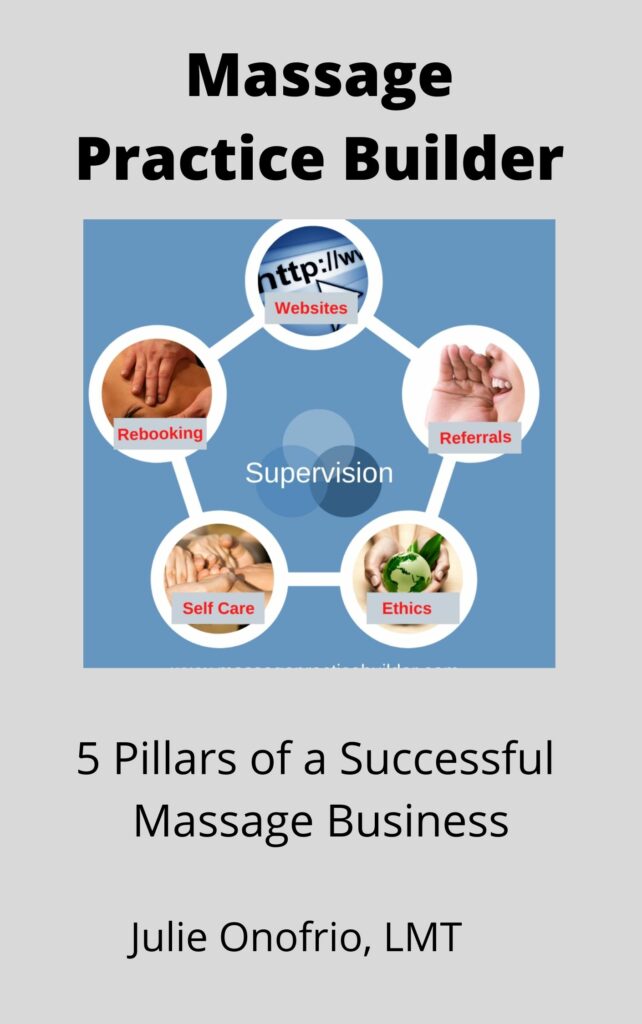 $24.99
PDF Download directly to your computer.
Puchase now through Clickbank.com secure servers.

SaveIf you are making the leap from employee to self employed learn more about how to start simply…start where you are at.
Here is the thing…this is what I have found that works for me! You have to find what works for you! I hope you will write your own book when you do!