The Step by Step Manual on how to bill insurance for workers comp, car insurance and health insurance and Get massage covered by health insurance in your state.
In most states you can bill massage therapy services for car accident claims (PIP, No Fault, Third Party) and get paid. You can also bill for work related injuries in most states through workers compensation/labor and industries. (I have been collecting a list of states and what insurances you can bill but it needs filling in.)
Learning the very basic concepts of how insurance companies work and start taking insurance clients in your massage business in this easy to read book. Once you understand the basic concepts and the process, you will be able to start asking the right questions to the right people and learn what you need to do to bill correctly and get paid by insurance companies!
These basic concepts include:
Figuring out what to charge for your massage services.
Understanding HIPAA and why all massage therapists should move toward being HIPAA compliant even though they may not be a 'covered entity'. HIPAA basics, HIPAA NoPP forms, HIPAA Risk assessments, HIPAA compliant forms, Electronic Health Records/Electronic Medical Records.
Learning about what forms you need to collect the correct information in order to bill insurance.
Learning how to fill out the basic billing form
Learning what CPT codes to use and how to use them.
ICD 10 codes and how to interpret them and use them.
Learning the process of billing and what to do if you don't get paid.

Creating a referral network of physicians, health care providers and lawyers to get more clients.
As a result of learning the basics of billing and actually billing cases, you will be able to start telling which cases will require more time, energy and have more risk of not getting paid so you can focus on taking cases that will take less time and energy to bill AND get paid.
Working with people who are injured and in pain usually means that clients will come in once or twice a week for a few sessions or for many months depending on the severity of the injury or condition. That means regular weekly/monthly clients until they are better and usually a regular weekly/monthly client after they are better and the case is settled.
If you decide to accept the challenge and open up more income opportunities and help put the 'care' back into healthcare, here are some of the things that you will need to know :
You will need to know what to ask the client when they call asking if you take insurance and analyze the case so that you can decide if you want to take it or not.
You will need to know the lingo and how to work with lawyers, doctors and insurance companies.
You will need to know how to do extensive chart notes so that you can show how massage has improved the functions that were impaired due to injury and various conditions.
You will need to know how to promote yourself to doctors and other health care professionals.
You will need to know what forms you will need and how to fill out the forms correctly so that you get paid.
You will need to know what to do if they don't pay and what to do if they ask for money back!
Here is the full Table of Contents:
| | |
| --- | --- |
| Table of Contents | |
| Acknowledgments | 4 |
| Contents | 15 |
| Preface (READ ME) | 16 |
| Introduction | 19 |
| Is It Medical Massage or Clinical Massage? | 21 |
| Step-by-Step Guide to Billing Insurance | 27 |
| Will Billing Insurance Help Your Massage Therapy Business? | 31 |
| The Prescription, Referrals, and Medical Necessity | 38 |
| The Codes: ICD-10 and CPT Codes | 45 |
| Setting Your Fees for Billing Insurance | 57 |
| Screening Clients, Verifying Benefits, and Intake | 64 |
| Documentation | 68 |
| CMS-1500—The Billing Form Explained | 76 |
| Personal Injury, Workers' Compensation, and Other Payment Options | 83 |
| Health Insurance and Massage Therapy | 92 |
| Health Care Law | 100 |
| Health Insurance Portability and Accountability Act (HIPAA) | 106 |
| Billing Health Insurance | 118 |
| Building Your Clinical Massage Business | 125 |
| The Art and Science of Massage Therapy | 133 |
| Research and Evidence-Based Massage Therapy | 150 |
| Health Care Integration—Getting Massage Therapy Covered by Health Insurance | 153 |
| Call to Action | 159 |
| Forms | 164 |
| Glossary | 172 |
Learning to bill is very complex to start with and also each state is different, each plan is different making it quite a challenge. No one person can really tell you how to bill or if you can bill because it is so different in every state and within each insurance company and with thousands of plans out there. It is also complicated by the type of injury and who is at fault.
When billing insurance, it means that you will be faced with many challenges. Insurance companies dictate what they will pay and the number of sessions they will allow in their plans. The one thing that they do not understand is that massage can save them money in other areas such as eliminating the need for surgery and drugs for many conditions. If massage therapists want to be more accepted in the medical profession and respected, we will also need a strong, cohesive group to help lobby politicians and to make stands against insurance companies low pay rates. The more people who understand the process of billing, the more people we will have to be able to do just that. Even if you choose not to bill, it is important to know what is going on in the world of insurance billing. We need more massage therapists billing insurance and getting to the table with the insurance carriers right from the start so that we can have a say in what happens.
The ability to bill and get paid by health insurance is coming no matter if you want it to happen or not.
I have been billing insurance of all kinds since about 1990, when I started my massage business in WA State. I have taken every class I could and read every book and article on billing insurance that I could find.
In WA State, massage therapists have been able to bill health insurance for over 20 years because of a law created by Deborah Senn, who was our insurance commissioner at the time. In the beginning and for over 15 years it was great with carriers paying between $80-$120 per hour with little restrictions. Currently we are getting thrown to the wolves by the carriers because of our lack of representation at the table with insurance carriers. For the longest time, I have recommended that other states work on getting massage covered by health insurance, but am changing my tune. We just do not have the leadership, advocacy, legislative power or negotiating power to stand up to the insurance carriers. My book though, explains what has happened here in WA and what we need to do across the US to be stronger as a profession.
I want to share what I know about billing and help teach you the basic concepts of insurance and billing so that you can learn what to ask the various companies, doctors and lawyers and get paid!
This book is not just about Billing… It is a Call to Action for YOU and the massage profession. I have added a Chapter on How to Get Massage therapy covered by health insurance and a Call to Action with 42 Action Steps that We need to start taking as a whole. I want to create a grassroots movement to bring awareness to massage and create the attention that it deserves to take it's rightful place in healthcare.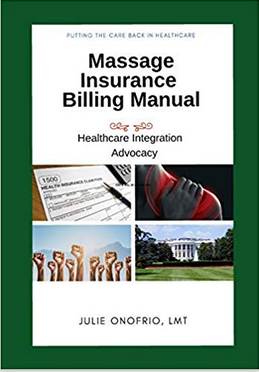 $24.99

Back to Main Site | About me! | Contact Me with any questions. Schools discounts available and preview copy.
Notice: This book is designed to provide information on the general principles of insurance billing only. This information is provided and sold with the knowledge that the publisher and author do not offer any legal or other professional advice. In the case of a need for any such expertise consult with the appropriate professional. This book does not contain all information available on the subject. This book has not been created to be specific to any individual's or organizations' situation or needs. Every effort has been made to make this book as accurate as possible. However, there may be typographical and or content errors. Therefore, this book should serve only as a general guide and not as the ultimate source of subject information. This book contains information that might be dated and is intended only to educate. The author and publisher shall have no liability or responsibility to any person or entity regarding any loss or damage incurred, or alleged to have incurred, directly or indirectly, by the information contained in this book. You hereby agree to be bound by this disclaimer.
Billing insurance is done at your own risk. Results will vary. It is your responsibility to use this information and to do your own homework in finding out who you can bill, how to bill and how to get paid. You are responsible for knowing the laws and regulations in your state. You may need to obtain further legal counsel or accounting opinions in order to bill and get paid.
Become an affiliate and make money when you refer someone who purchases the eBook.
Save
Save
Save
Save