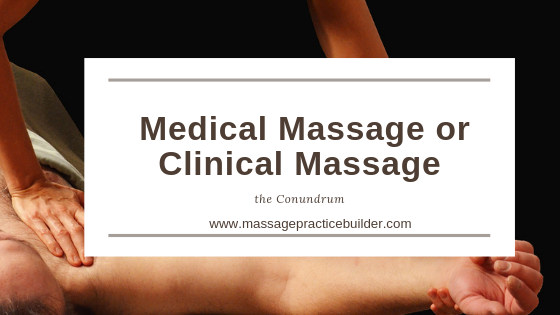 The term Medical Massage Therapy is being used by many different teachers and schools as a way of marketing to attract students to their schools and CE classes. The use of this term is causing a very big problem in the massage profession.
When someone is calling their classes or technique Medical Massage
Throughout the massage profession you will find teachers and massage schools saying that they teach Medical Massage. Whenever anyone says that I wonder exactly what are they teaching since there is not any ONE technique or method called Medical Massage. It is usually being used more as a marketing tool which is fine, but know what you are getting into. You can learn to apply what you do or take classes in assessment and various types of massage therapy that can be applied to medical conditions – headaches, muscle/joint pain, back/neck pain, fibromyalgia, strains/sprains and most muskuloskeletal conditions.
Some will also include learning to bill insurance with medical massage classes, but billing is not necessary. You can work with medical conditions and build a cash business or you can learn to bill. You could build your business working on injuries from motor vehicle cases, injuries at work or health insurance. While health insurance does not yet pay in many states – it is coming soon as the profession fills the demand for alternatives to Opioids for pain relief.

Working towards a clear definition
The massage profession itself lacks the leadership to effectively define medical massage for itself so the confusion will continue until the profession makes a stand. Imagine how that looks to doctors who are thinking they are referring someone out for massage and they don't know who to send them to. Do they look for someone trained in Medical Massage? If so what exactly are they trained in? No one really knows.
Back in 2005, AMTA actually claimed that:
The term 'medical' has legal meaning in some states. So a definition for 'medical massage' could only be determined when stakeholders in the massage therapy profession, the medical professions, credentialing bodies and regulatory bodies have provided input into a definition of the term.
No association or leaders in the massage therapy profession have stepped up to do this yet. I think it is the job of the AMTA or maybe we need a group of leaders from every major association to step up.
Medical Massage Definitions

Sandy Fritz, author of many massage school textbooks, school owner, franchise owner, teacher and leader in the massage profession gave a little history on the use of the terms in a Facebook post.
My history on massage project so far has only found this reference to the term. Massage therapy has always been used in medical settings and was used by doctors very early in our history.
"It was Timothy L. Fitzgerald, M.D. at Mary Free Bed Hospital that first suggested the use of the descriptive identity "Medical Massage" by the American Medical Massage Association" according to the AMMA. https://www.americanmedicalmassage.com/history.htm
Medical Massage Practitioners of America definition:
Medical Massage is result oriented and the treatment is specifically directed to resolve conditions that have been diagnosed and prescribed by a Physician. The therapist may use a variety of modalities or procedures during the treatment, but will focus the Medical Massage treatment only on the areas of the body related to the diagnosis and prescription. Medical Massage is generally billed in 15-minute segments using current procedural terminology and adhering to the usual and customary reimbursement fee schedule.
LMT Success Group definition:
By definition, medical massage is a therapeutic massage prescribed by a physician and performed following the directives of that physician. Medical massage does not refer to any specific treatment method and can include various massage protocols and modalities. Medical massage is outcome-oriented instead of time-oriented.
https://www.lmtsuccessgroup.com/MedicalMassagePractitionerProgram
ABMP https://www.massagetherapy.com/glossary/m :
Medical Massage
Performing medical massage requires a firm background in pathology and utilizes specific treatments appropriate to working with disease, pain, and recovery from injury. The therapist may work from a physician's prescription or as an adjunct healer within a hospital or physical therapy setting.
Budzek Medical Massage Therapy™ is designed to relieve acute and chronic pain originating from muscles, nerves and joints. It is based on the principles of 12 different bodywork modalities and addresses 8 different aspects of the Musculoskeletal Pain Cycle.
"Medical Massage" from www.scienceofmassage.com defines it as: Medical Massage is performed only on persons with diseases diagnosed by a doctor or chiropractor. The goal of medical massage is to apply therapeutic impact on parts, systems and organs of the body using direct and indirect methods of treatment. This type of medical massage includes 10 distinctive characteristics of medical massage.
I think it is about time that we start talking about this and clarifying the issues as the many authorities are calling for massage therapy to be used to combat the Opioid epidemic. As we work toward getting massage therapy covered by health insurance, we need to define it for the profession ourselves so that the insurance carriers do not do it for us.
The OH State Board of Massage adds to the confusion: They define massage as:
(D) "Massage therapy" means the treatment of disorders of the human body by the manipulation of soft tissue through the systematic external application of massage techniques including touch, stroking, friction, vibration, percussion, kneading, stretching, compression, and joint movements within the normal physiologic range of motion; and adjunctive thereto, the external application of water, heat, cold, topical preparations, and mechanical devices. Ohio Revised Code
In OH, you can perform relaxation massage without a license. But what is relaxation massage? It helps with medical conditions such as stress, anxiety and depression, which the research we have shows that massage is the best course of care for those conditions.
The Mayo Clinic has a course called "Medical Massage" but then they go on to say it is Hospital Based Massage. Then their page on Medical Massage says:
A medical massage therapist is a licensed massage therapist (LMT) who treats health conditions diagnosed by a doctor.

That is just so not correct. Anyone can come in for a massage when they have back pain, neck pain, headaches or any condition without a prescription or diagnosis.
Then they go on to say:
Higher education requirements
Someone interested in medical massage therapy must first pursue licensure as a massage therapist. A massage therapy education program may require 300-1,000 hours of training which prepares individuals to take the Massage and Bodywork Licensing Exam (MBLEx). After becoming a licensed massage therapist, you can receive board certification through completing additional training and passing the National Certification Board for Therapeutic Massage & Bodywork (NCBTB) Exam.
The Current Board Certification in Massage therapy only requires 500 hours of education currently. We have specialty certificates in Clinical Massage Therapy. WE NEED a TRUE Board CERTIFICATION in clinical massage/medical massage where basic competencies taught by any teacher/school can be taken and pass the CERTIFICATION exam.
Schools/teachers saying they are teaching "Medical Massage"
The Problem with using the words Medical Massage
The problem is that there are so many different teachers/schools calling their work medical massage that it is making it so confusing to massage therapists looking for more skills/knowledge and to the doctors who are referring patients to something they think is a special method when in fact it could be anything anyone wants to call medical massage.
The bigger problem is that a few insurance carriers are using the term medical massage and defining it for us! Premera Blue Cross which is a major insurer in WA State is using it in their medical policies (PDF):
" Medical Massage Therapy:Medical massage, also called therapeutic massage, is outcome-based massage, using specific treatment modalities targeted to the functional problem(s) or diagnosis provided by the primary licensed clinician with prescribing authority.Medical massage therapy or therapeutic massage may be provided by various qualified providers."
****NOTE: There are NO true certifications in Medical Massage. Teachers/Schools can give you a certificate of completion of their program which is different from a certification. Certification programs are often fostered or supervised by some certifying agency, such as a professional association. A certificate says that you acquired specific knowledge, skills, and/or competencies. A certification validate the participant's competency through a conformity assessment system.
See Institute for Credentialing Excellence: Certificates vs Certification.
" There is currently one major Certification program in our profession and that is the Board Certification offered by the NCBTMB. There is also a certification program offered by the Lymphology Association of North America and one by the Certification Board for Myofascial Trigger Point Therapists. "
See Certificate vs Certification by Whitney Lowe
The teachers and schools that are saying they are giving a Certification in Medical Massage or any type of massage therapy are doing so illegally.
Clinical Massage
What we need to do is start calling it Clinical Massage to differentiate it from regular massage.

CLINICAL MASSAGE is the use of massage techniques to safely work with patients who have diseases, disorders, or injuries. Therapists working with clinical cases may use a variety of assessments to formulate treatment plans that focus on therapeutic or palliative goals. Clinical massage may also refer to the settings where massage services are provided such as specialty clinics (e.g., physical therapy clinics, physical rehabilitation clinics, chiropractic clinics, sports clinics, and hospice care clinics) and polyclinics such as hospitals, which provide a range of inpatient and outpatient health care services. ~Susan Salvo, 6th Edition of Massage Therapy Principles and Practices.
Clinical Massage therapists can practice any type of massage therapy and use various assessment methods and apply them to any medical condition that the client presents with. The focus is on the outcomes, not the techniques or methods that achieve the outcomes. Assessment is the process of collecting information about the clients condition and being able to make more informed clinical decisions about the path of treatment. It will help determine whether you should work on the person or refer them out for more testing.
You can apply massage therapy to many conditions safely by learning about the pathology, anatomy, physiology and kinesiology involved and applying what you know about whatever type of massage therapy you already know. You can also take classes in things like orthopedic massage with leaders like Erik Dalton, James Walaski, or read books on the topic. You can enroll in online courses in assessment and treatment of medical conditions using orthopedic massage methods with Whitney Lowe of the Academy of Clinical Massage.
There are many aspects to clinical massage. There is massage done for rehabilitation of injuries such as carpal tunnel syndrome, frozen shoulder, herniated discs, headaches, strains/sprains, pain of all sorts, sports injuries and injuries at work, home or car accidents where the main injury is usually whiplash.
There are many books on the topic too that you can read and have for reference.
The problem with not having clear definitions
What happens and is already happening is that when the profession fails to clearly define the terms medical massage and/or clinical massage, others will define it for themselves. The insurance carriers in WA State are already doing that. Other professions can and will start to define things for us if the massage profession doesn't do it for themselves.
The CA Massage Therapy Council also just sent an email to their certificate holders saying that the CA Dept. of Public health has broadened their own definition of medical massage for COVID-19 regulations.

Essential workers: Other states allowed Medical Massage to be provided when other businesses giving massage for so called 'relaxation' purposes were forced to close. The medical massage and medical necessity definitions were again lacking, making it confusing and also allowed many to continue to give massage.
So Many Definitions. So little Clarity. What's the answer?
Currently, the only answer I can think of is to get the NCBTMB to create a true Board Certification in massage that works with medical conditions. I do know that this in in the works but not sure if it will come to be. The NCBTMB is struggling financially and AMTA is currently funding them for the most part.
Also tiered licensing is always brought up to create tiers of basic massage and advanced massage. It will take a big shake up in the profession to make that happen, as each state is currently responsible for that.
Billing Insurance for Medical/Clinical Massage
You can learn to bill insurance for injuries that happen in car accidents or at work. Many states also have some health insurance plans that are paying. I have some ideas on how to get massage covered by health insurance in Every state and also the step by step process for learning to bill that applies to any state. See more: Massage Insurance Billing Manual