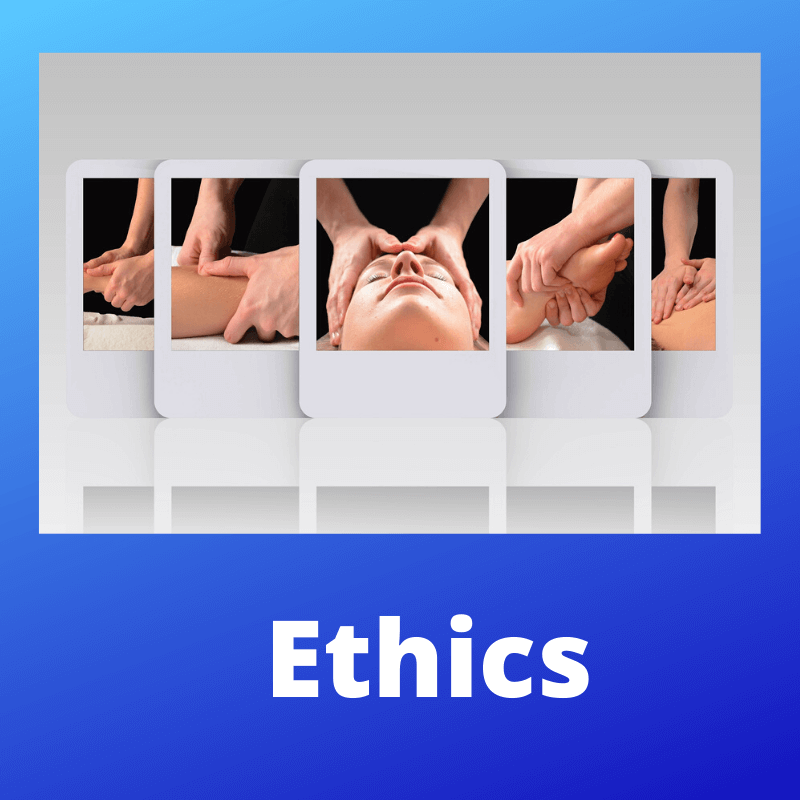 Ethics is about creating a strong foundation for your massage business or job so that you can build a career that will allow you to last a long time and be wildly successful as a massage therapist. I bet you never really thought that ethics could get wild!
Studying ethics and learning about your own values and needs is what will help you create the boundaries that will help you throughout your career. When you can set boundaries that support you, your chances of having a long and rewarding career increase significantly. It is about living and working in integrity with your values. Your marketing plan, website and everything you do will be supporting you every step of the way.
You also have to be aware of the many things that can happen for a client who is on the massage table. Touch has a way of bringing up many old patterns of relating to people. When people are in pain and under stress, they often are not thinking clearly. Understanding transference will help you help people more. The clearer you are about yourself and your boundaries, the more possibilities there are for healing at a deeper level than just the physical pain. While we don't deal with the emotions as a massage therapist, they can not be denied or ignored.
Ethics defined
You already learned about ethics in massage school (see Massage School Notes). Now as a therapist, it isn't always easy or straight forward to create and maintain an ethical practice. It is a learning process.
One of the first things you will want to do is create your own code of ethics and then write a statement of informed consent that you will give to your client and maybe even have them sign it. A statement of informed consent that is well written will help protect you more than things like having a liability statement or doctors note for challenging cases.
Your Policies and Procedures will then be written to support your code of ethics and informed consent policies. Your clients first need to know what your boundaries are. If it is not clearly stated or explained, then one can't complain when they are challenged or violated.
The Ethics of Selling Products in Your Massage Practice
Create Your Own Code of Ethics.
Supervision for dealing with ethical dilemmas
Supervision is the process of working with a more experienced therapist to help you through your ethical dilemmas. Peer supervision groups are a group of your peers that gather regularly to share the experiences and help each other through them.
Dealing with the so called energy vampires: There are no energy Vampires
How Can I Help? Understanding your reasons for 'helping' are one of the keys to a successful massage career. It is often our helping or overhelping that gets us in trouble. It takes more than just regular self care to make it through.
Dating Massage Clients – There may be specific laws in your state regarding dating massage clients that actually make it illegal. Even if it is not illegal in your state, it is an ethical issue.
Making money and caring. Massage therapists have a tendency to be money monks or what I call Noble Poverty. The idea that one can make real money in this profession brings up issues on whether or not one can do it ethically, while caring for clients who need us. It will take getting out of the money fog.
When your clients don't listen to your advice and recommendations, it can bring up feelings of not being valued or frustrations in working with those people. The thing is, it isn't about you so don't take it personally. You also have to learn how to communicate and work together with people to make sure that you create a plan of care that they are willing and able to do. It may also be that people just want massage and that is OK too.
Getting the pressure just right. Working towards a common language around the amount of pressure you apply in a session so that the person feels like they got their money's worth and also works within your understanding and abilities will do more to help your practice grow with clients who like your massage.
Boundaries – when clients push them, what do you do? First you need to make sure they know what your boundary is. That can be difficult if it is a challenging issue such as money, time or a sexual issue. Being as direct as possible is the only way but it takes practice to learn how to be direct yet caring.
The Code of the Caretaker – the first chapters of a book of mine on how we use caretaking instead of caregiving and it often ends up in burnout.