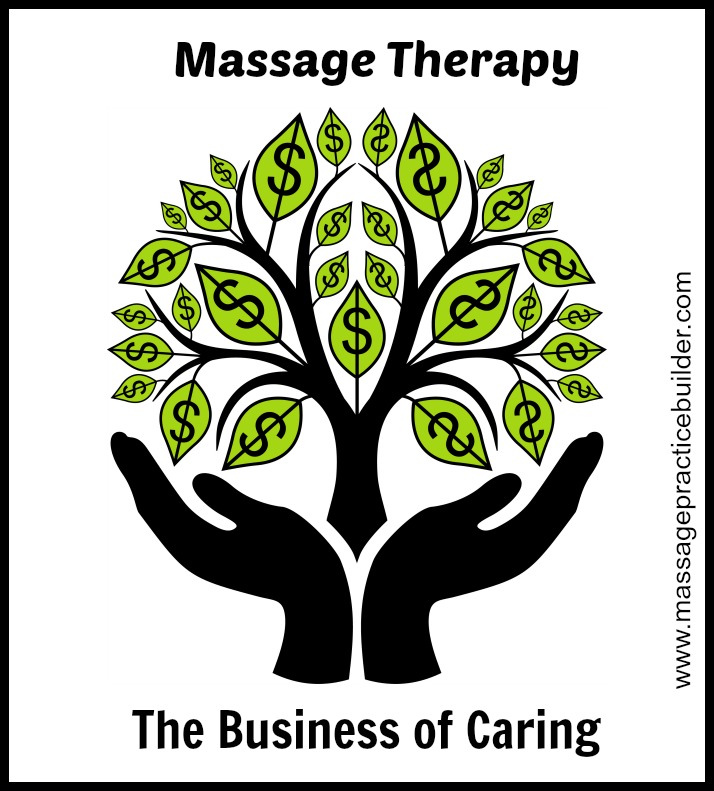 One common theme I see in the massage profession is that many massage therapists think it is much better to care and charge less or not promote themselves enough so they have enough clients than to make money.  Yup…me too.  Been there, done that and still struggle with issues around making money myself.  Who doesn't?
Money is the one thing that touches everyone's life in some way, shape or form.  Money is where we project all of our issues about self worth, being worthy and being good enough.  When it comes down to basics – money really doesn't mean anything.  It is a math problem of life to be figured out so you can eat, drink and be merry and pay the bills, take vacations and yes – even continue to stay in business and do more great massage!  Maybe even retire one day!
Often when people say it isn't about the money, what they are saying is that they are not making enough doing this work.
Noble Poverty
The first time I really started thinking about this was after reading a book called "Why Women Earn Less: How to Make What You're Really Worth

" by Mikelann Valterra (which could really be called "Why Massage Therapists Earn Less).  She uses the term "Noble Poverty" :
"The continual practice of earning less than one needs based on the belief that there is virtue in not having money."
It is when people think that by choosing to be a massage therapist makes them more 'noble' and that money is somehow evil.  It really comes from whatever beliefs you developed about your own self worth and money in your early childhood.  It is almost like you choose a profession where you can't make as much money as you need so that you can be more 'Noble' than others it keeps you from making more money – a vicious circle of pain, underearning and life draining work.   But the reality is you can make as much or as little as you want in this profession – just like any other career choice really.
You can make money and still care!
A good place to start understanding your underearning issues or at least start becoming aware of them is by looking at what you think about people who do have money.  What do you think about people who are millionaires or have more money then they really need?   Do you think things like ' they must have had to sell their soul to get that money? or that people with money are somehow evil?   What do you think when you see people driving a Bentley?  I had a client who owed one for a few years but he sold it because he said people kept keying the car – dragging their key down the side of his car for no reason other than he owned a fancy expensive car that most people can only look at in magazines.
When you don't make as much money as you need, you really are not doing anyone any 'good'.  If you are not able to stay in business because you don't market yourself enough or you are not willing to learn how or to pay someone to market your business – what 'good' is that?
I do know that part of the issue is that many people come into the massage profession just seeing dollar signs – I can make $65-$100 an hour????  Well you can't.  That is what you can charge for a massage but you usually don't make that much.  They somehow forget to tell you that you will have business expenses to pay as well as you have to get clients on the massage table which means you have to promote yourself to make that happen.   The schools often will not tell you that jobs in massage start at $12-$15 an hour which is hardly a living since full time work in massage is usually about 25 hours a week because of the physical demands.
Massage therapists cringe at the entry level pay in franchises like that and the low fees that they charge clients saying that it 'devalues' the profession.  It does I guess in a way do that but it really is just business basics.  The owners of most franchises are not massage therapists so they DO care about making money and it is their main focus!  They do like salaries of $100k or more and want to be able to sell the business for more than what they paid which is usually $150K-$300K or more!   How do you think they will make that kind of money?  By paying the therapists less and giving themselves more! They took the financial risk and are responsible for getting clients in the door and they need to get as many as they can.  It is just business.   It isn't anything personal.  But stop taking the low paying jobs if you can't make a living at that rate!  Take the job if it is a nice supplement to your other income or family!
Most massage therapists start their own business which makes them responsible for getting clients in the door.  It takes promoting yourself – telling people that you are out there!  Some people will call it sales but I just think of sales as high pressure tactics to get people on the massage table and coming back.  I won't go that far really because high pressure sales tactics aren't really need in my opinion.  You do need to ask though!  You need to ask people to refer to you.  You need to ask the people who come in to refer to you as you are building your business.  You have to ask them when do they want to come back…You just have to tell them and ask!    It is just marketing!   Sounds simple right?  Then why are so many massage therapists struggling?
Is it this idea that it is somehow better to not have clients and live without because doing massage is so absolutely fabulous and amazing that it will surely get you to heaven because you are so good to be doing this work!
And yes, this is one of my own personal demons too but I have been working on it for many many years.  It still will hit me like a ton of bricks when I find myself complaining that I don't have enough clients.  The way I deal with it is by tracking my income and expenses to the point where it all just becomes a math problem to be solved.  If you don't know where the money is coming or going – you may be in a money fog.  When you are more aware of the money coming and going, it no longer becomes about am I good enough to charge what I am worth, or good enough to charge people when they don't show up or good enough to put myself out there (market myself!)
What you charge for is your time – Your time away from your family and your life.
You charge for your experience and your skills.   The Caring is Free!
It's a Business.
Massage therapists have to remember that it is a business that they are running.   To stay in business you need enough money to pay the rent and make a living.   You don't have to be a business major to run a business.   You do have to show up and work to get clients.  To make it a business you need to have set hours and set days that you work.  Your schedule is part of the therapeutic relationship and also part of self care for you.  I see so many massage therapists leaning away from same day appointments saying that they aren't at people's beck and call and that they have a life.  Well it's fine to have a life, but if you need money and clients, you have to show up on the days/times that you have set up and be there whether you have clients or not.  It's business.   Just let people know your hours.
Technology is here to help you run a massage business and to manage your time more effectively.  The more time you spend working on office work and getting clients scheduled and in the door, the less time you have to give massage where you make the money.  Don't be afraid of technology.  Having a really really good website will do most of the work of getting people on the table.  It will also be so full of information and content that people will trust you right off the bat when they make the appointment.   Online scheduling is a necessity these days.  Saves hours of time trying to get people on the phone and get them scheduled.  If you really really don't want to work on your website and get it to the point of doing all of the work for you, then you will have to be an expert at networking and getting people to refer to you.
You won't have to 'sell' clients on your services.  Selling is really just telling people what you do and what massage can do for THEM.  It is a natural process of educating people and giving them the best massage that they ever had in their life.   Just be yourself.  Share what you know.  Learn to write and talk about massage.  Be a big fan of massage and get massage weekly yourself.
Some massage therapists will say that they don't like being a sales person.  The word sales conjurers up used car salesman trying to sell you a junker car for way too much money.   That is not what you need to do!  Start with my 5 step process.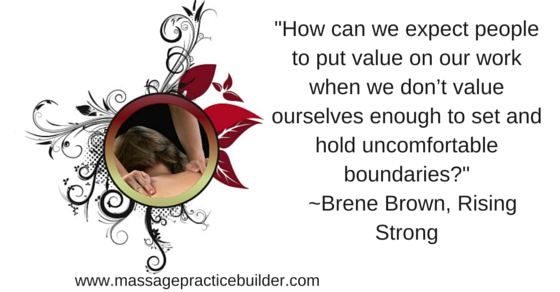 Resources:
Why Women Earn Less: How to Make What You're Really Worth
– Mikelann Valterra   Getting to the core of your beliefs about money takes some work to examine your own beliefs and issues around money.  It is such an unconscious process!
Financial Recovery: Developing a Healthy Relationship with Money
– Karen McCall (Mikelann's Mentor!)  The Plan for recovery is in tracking your income/expenses and getting to the point of knowing that it is all just a math problem.
Originally published Jan 18, 2015.  Updated Dec 10 2017
Save
Save
Save
Save