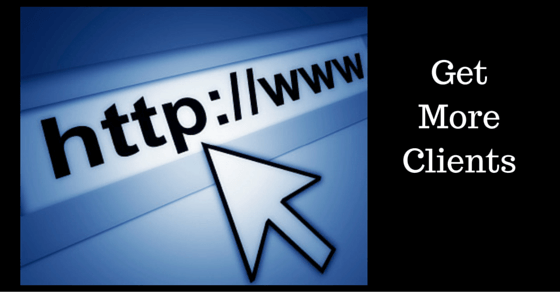 End your frustrations with building a website that gets you most all of your clients.
You just need to create a website that works and you can do that yourself when you have all the tools and information you need at your fingertips.
When a Website "Works", it will be attracting your "Ideal Clients" while you do massage (or while sleeping!) AND will make you extra money while you are giving massage or are on vacation!
A Website that Works Will:
Get your site listed on the first page and preferably the top 2 listings of Google (and all of the other search engines)
Attract Your Ideal Client
Get Your Ideal Client to click on the listing!
Get Your Ideal Client to call or make the appointment!
And Get Your Ideal client to keep coming back each week/month
AND Send in all of their friends/family members/co-workers
AND Makes you money while you do massage!
A Website for your massage business is one of the best tools for getting more massage clients. When people are searching for the words 'massage your city' and your website turns up on the top of the first page of results on any of the search engines – people will already be looking for massage!  That is the best kind of client to get!  They are already an Ideal Client!  They are looking for massage!  They already understand the value of massage and they want one or they have a problem that they are looking for a solution for so they are searching for massage!
That is what makes a Website that Works!  Your website will attract your Ideal Client! It doesn't get any easier than that really.
So how do you learn all that and get your website to do that?
It is simple:   Site Build it! (SBI!)



SBI! is the system that I started using back in 2002 that taught me everything I know about websites and also making residual income online.  I use it for my massage business website so I don't have to worry about getting clients.  My website does the work for me, while I just give massage.
As a massage therapist, it is important to have other sources of income for slow periods, to supplement your income for sick days/vacation etc.  Having residual income that you get whether you are working or not is really the way to go.  Your hands and body can also only take so much.  Your income is limited by the number of massages you can do in one day/week.   The basic business premise is to work less and make more but that just doesn't work in the massage profession and that is why I recommend that you start an online business where you can also make money talking about massage, pain and stress.
You are the expert in those areas and people need to know more about how massage works and what it can help with.  You can also take other things you know and love – hobbies, interests and specialties and create an income producing website.  I know it all sounds crazy and impossible…but you don't have to worry about a thing.  SBI! explains it all and helps you choose the best topics and teaches you EVERYTHING you need to know.
Special Offer:  When you purchase through one of the links on this page, I will assist you in brainstorming and creating your website for the whole month of January.  Just email me after you purchase.  (Purchase must register in my affiliate account meaning you haven't bought SBI previously or visited SBI through other people affiliate links.  If you inadvertently  have, please contact support and tell them you want me to be your team leader!)

Not Ready to order or need more information?