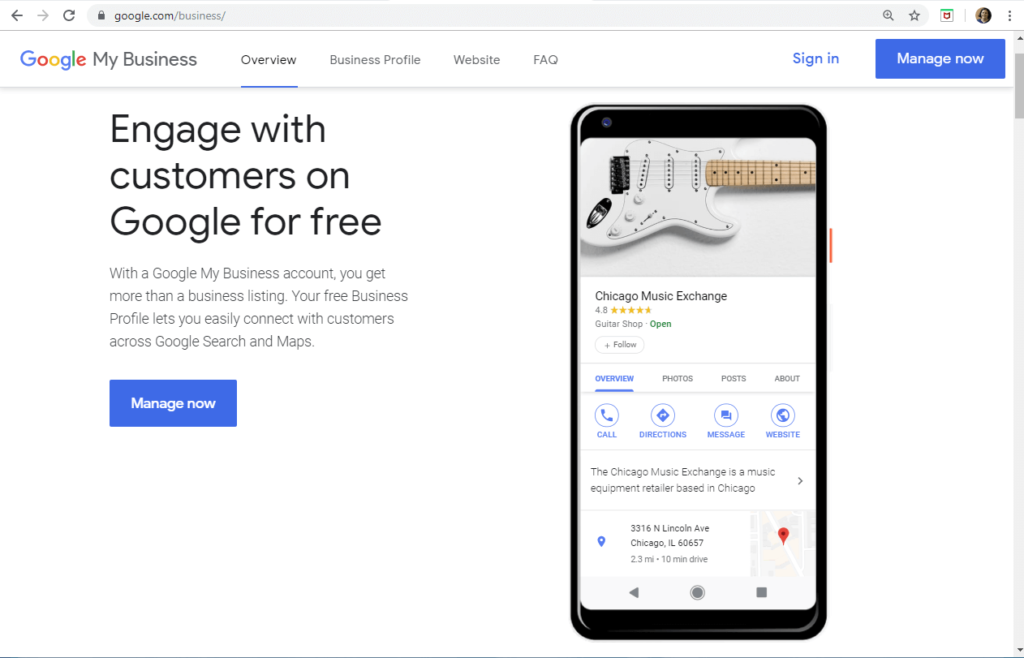 Google My Business (https://business.google.com/ )is now the most popular way that people will find you or look up your contact information. It is most likely the first impression for potential clients so making it a good experience is essential. It is as important or more important than your website these days. (Google My Business' Business Profile encompasses what was once known as Google Places for Business, Google Listings, and Google+ Business Pages.)
The Free Google My Business Listing will get your massage business onto Google Maps. People are using Google Maps to find businesses in their area. It is a great way to get people to your website to find out more information about your business. The Google Reviews are also posted on the listings so searchers can see what others think of your business. It is more of a legit review process as compared to Yelp reviews where Yelp decides what reviews get posted. Google Reviews are all posted and you do get a chance to reply.
To get started just go to www.google.com/business and sign in using your gmail login or start a new account. Your business may already be listed on Google Maps/Google Business. If it is already on there you need to 'claim your business' so no one else will claim it and control your business listing.
Once you create an account and start your listing, you will have to verify your listing. Google will tell you how to do this. It usually takes time for the information to get verified.
When your listing is verified, focus on adding as much information about your business as you can. Keep the information updated especially the hours and location.
Get the Most out of your Google Listing for your Massage Business
Google My Business posts will show up in search engines first too so you need to be posting regularly and be posting engaging content.
According to Google, businesses with photos see 35% more clicks to their website and 42% higher requests for driving directions in Google Maps.
Photos should be at least 720 pixels wide by 720 pixels high and JPG or PNG files.
Create a post with a photo once or twice a week. Test what type of photo gets the best response — pictures of people getting massage, relaxing scenes or environments, people doing activities like hiking, biking, running or
Use the question and answer feature and prepopulate the questions with common questions you get from your clients. Other people can also answer the questions so be sure to monitor the answers. The questions and answers option can only be seen on the phone apps right now.
Right Now your Google Business Listing is free but may not always be.
Google started this service back in 2014 and have continually upgraded it and made it more and more important. In April 2019, they did a survey asking what people would pay if they decided to charge for the service. Search Engine Land – a well known search watch company wrote an article on it — Google May Decide to Charge for Google Business Listings
So start it NOW!
Download the app iOS and Android or just start on your computer www.google.com/business