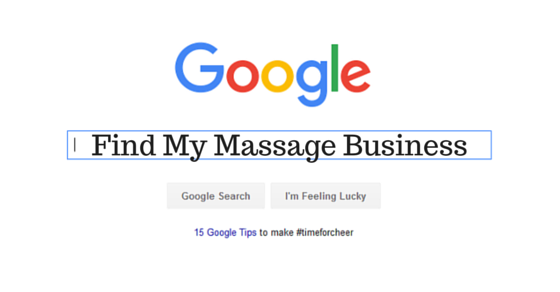 Writing Content for your massage therapy business website is one of the best ways to optimize your website for search engines and it is the best way to show that you know what you are talking about.  Content helps build trust with the reader to turn them into a client.
Content is really what the internet is all about.  People want to find information.  When you can provide a solution to their problem ( their search) and they can find that info easily (in the top spot on the first page of Google) then you are way ahead of the game!   When they get content they will be content!
Content is just everything and anything that can be found on your website:  Your basic pages, blog, videos, slide shows, infographics, photos and articles.
Put yourself in Google's place.
They are scouring the internet for the best information to fulfill their searchers dreams.  It used to be that the main way they found that content is by following hyperlinks.  It is hyperlinks that connect content and the search engines only means really of finding more and more websites.   You can also tell them what is on your site by submitting it to them but that still does not guarantee your site will get found or listed.  Up until recently (Panda/Penguin/Hummingbird) the majority of SEO depended on linking.  Panda/Penguin are two distinct algorithm changes that Google devised in the last few years to clean up the internet and their search result.  Panda is about content.
Google wants original, unique, and shareable content.   They want to see that you are an expert at what you do.  They want to see that you are the authority on the topic and that you are trustworthy.
Penguin was about links – getting too many websites to link to you using your keyword in the link was what used to make your site look popular.  That isn't so anymore.  Now it is about natural linking – getting people to link to your pages/website because it is just amazing and good information!
Put yourself in your readers/potential clients/ current clients shoes.  What would you like to know about or learn about?
The key to writing articles for your massage therapy website is to just start writing about the common questions that you find yourself answering all day long anyway!
Write the same way you would talk to people.
Writing content is about educating people about how massage works and why.  It helps not only you, but the whole profession.
So with that here are some ideas for what to write about:
 Home page – focuses on the reader/potential client and tells them what solution you provide for them
About Me page – tell everyone about you!  Let yourself shine!  Make it personal!
Write a whole page about why you became a massage therapist and what it means to you
Services/Fees- just tell them what you offer and how much it will cost them
Gift Certificate Sales Page (or combine with Services/Fees)
Create a page on every type of massage that you do.
Create a page on the various types of massage even if you don't do them so you can explain the difference: Swedish Massage
Deep Tissue Massage
Myofascial Release
Triggerpoint therapy
Craniosacral therapy
Hot stone massage
Structural Integration
Pregnancy Massage
Reflexology
Energy Work
Create a section for physicians stating the latest research and what it means.  You might want to read up on this.  There are a few really good books on research.Massage Therapy: Integrating Research and Practice
and also Physician's Guide to Therapeutic Massage
This second one, you can also offer for sale as an amazon.com affiliate in your section for physicians
How does massage work
Why does massage work
How muscles work
The real benefits of massage – be sure you know them!  It isn't really what you were taught in massage school!
How often should someone come in for massage?
Write about the interview process that you take people through and why/how it is important to your session and the results of the sessions.
Write about franchise rates and services in a nice way that separates your business apart from them
How often should people get massage?
The music of massage and become an affiliate with www.amazon.com or other service so that you can make money when people buy that music
Write about massage oils/lotions and how you use them
Have a page on couples massage -even if you don't offer classes you can tell people how to massage each other and sell massage tables/lotions/oils/supplies through your affiliate account at amazon.com or others
Talk about the various diseases and conditions that you work with such as Fibromyalgia
Tennis/Golfers elbow
Headaches
Stress
Anxiety
Depression
Back/neck pain
Hip pain
Knee pain
Foot/ankle pain
Plantar fasciaitis
Joint replacements
Herniated discs
Write  a FAQ's page – what questions do you hear over and over from clients.
Write an article about how to use your favorite at home massage tool and find a program to sell it as an affiliate and make money
Write about what it is like to get your first massage.  You can even use your first ever massage as an example.
Write about what makes for a good massage, a great massage and how to tell when you have a 'less than ideal' massage.
Write about what massage really does – like makes you feel lighter, more centered and clear thinking.
Write about how to massage your pet.  You can refer to books or videos.  This also could be a good affiliate program.
Do you use aromatherapy?  Even if you don't, it could be a good topic to write about and share what oils you like best and what they are used for and yes – another affiliate program possibility.
How to get the most out of your massage – things you can do that will improve your massage experience.  (Communication about pressure etc)
How much pressure is just right?
Write about the issues of illegal massage and human trafficking that are happening today.
Write articles on other practitioners in your area.  You might even want to ask other practitioners to write a guest post on your website and link to their site.  You could do the same on their site!  (Natural Linking!)
Write about something you saw on your local news channel about massage or health.
Read about the rich history of massage  and write about various parts of it – the history of sports massage, massage at the Olympics,  massage used by shamans,  early Greeks etc.
Set up a Google Alert for the words massage and massage therapy and watch the news feed for the latest news and write about the articles. (Look for major publications like the New York Times, Wall Street Journal and major health publications as well as local news items.)
Follow my Pinterest Board on Massage in the News to look for news items to write about.
Write about how the Affordable Care Act does have provisions to get massage covered by health insurance and that clients will  need to be contacting their insurance companies and the office of the insurance commissioner in their state to find out what is happening and to make it happen.  Currently states that consider massage therapists to be healthcare providers may have the opportunity to bill health insurance.  Read more on the ACA and Massage.
Write about the value of massage and how it is a necessity and no longer a luxury.
Create list pages:  10 things you can do today to have a less stressful day, 7 things things for better health….etc
Create a page of resources:  your favorite blogs, websites on health and massage.
Create a section for other massage therapists – become the resource in you area for others.  Find affiliate programs that you can promote and make extra money.
Massage and Chiropractic  – how the two work together
Massage and Physical Therapy –       ""
Massage and Acupuncture –           ""
Massage and Getting a cold/flu
Massage for children
Massage for the elderly
When not to get a massage – basic contraindications.
Write up case studies and put them on your website.  See also: how to write a case study.
Write about the massage profession and how it works including things about the franchises and how your work differs from what is being provided at other places.  ( Please write in a positive way and not bash the franchises and just say the truth.  People don't really know that the franchises hire people at low rates of pay and that they depend on tips to make up the difference.)
Read websites like www.massagetoday.com and www.massagetherapy.com for many ideas on what to write about and to research a topic you might want to write about but remember – keep it original.  Just use the information for ideas.
Look at articles in the International Journal of Therapeutic Massage and Bodywork for ideas for writing. (Free)
 Watch the news for popular articles like this one in the Don't Call it Pampering:  Massage Wants to be Medicine in the Wall Street Journal and write about it in your own words.
Write about events and programs in your community that you support or are working with
Write suggestions for self care for various conditions or for self care after a massage
Share self massage techniques and tools and become an affiliate at amazon.com and make money selling them.
Write about how to create a home spa environment and home spa treatments for a girls night out or special occaisions.
Write about how massage is being used as a front for prostitution and for human trafficking and what can be done about it in your area and what is being done about it.
Educate people on the Affordable Care Act and what can be and is being done to get massage covered by insurance.
Want more help in learning how to write for your website:  Read the free ebook Make My Content Sell  (Don't be afraid of the word 'selling'.  It is just about using content to create trust with your visitors)
More info on how to Get your website found by Search engines – Get More Clients with a Website that Works
Share your list of pages of content here and what has worked best for your website.  Which pages get the most attention?
Everything I am writing about here, I learned from creating websites. I learned by using a system called Site Build it! which is now called Solo Build it! which includes ALL the instructions, tools, resources and the software you need to build a website that works. Try it now.