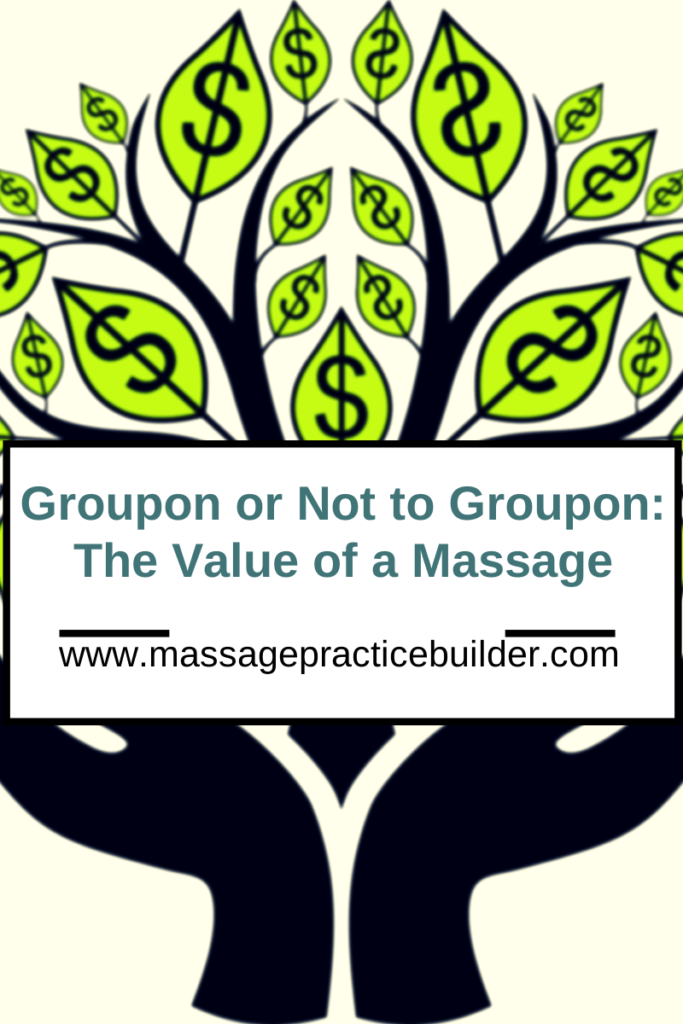 Groupon and group buying is becoming the new online marketing tool for many companies.  The group buying process is offered by many companies like Groupon.com, livingsocial.com, amazon local and mycouponbuilder.com.  (There are also many others!)  Offering massage services through one of these companies can drive clients to your door but it can also be at a great cost if it isn't done right.  There is also much controversy over whether or not these group buying services are helping or hurting the massage profession.  On one hand, you will usually get a high number of new clients.  On the other hand, you will be offering these services to people at a big discount.  People who buy on discounts tend to be deal seekers and may not really understand the full benefits and value of massage.  They are usually the first to want more discounted services and often the one's who will be more difficult to work with. (I know this is a big generalization but it just seems to be a pattern I have seen.)  Here are some of the challenges you might run into:
People don't usually read the fine print.  If you have specific details like for first time clients only or limits to the times they come in…people will do everything they are not supposed to.
People may be coming in only because of the price and will expect that they will be able to come in more times at that price.  These people will usually require more time to educate.
People will try to challenge your rules for scheduling and will realize that the deal is almost up and they haven't used their coupon.   You might get hit with an overwhelming number of last minute appointment schedulers who will be upset if you are full.
Is it legal?
First thing though is to find out if it is legal for you to run a group buying offer.  In many states it is illegal for massage therapists who are licensed as Health Care Providers to take referral fees. Many of these companies call what you pay them a referral fee.  You have to read the contract to see what it says.  They find the customer and refer them to you for buying.  When there is a referral fee involved, it can be considered to be a kickback which may be illegal. There is often much discussion around whether or not group buying offers are really kickbacks or not as many kickback laws were created to stop other healthcare professionals from making money off of other practitioners.  You will have to know your state laws or know how to find out.  Basically, if you are a health care provider, you can't give referral fees.  Some companies might not be calling it a referral fee so you will need to check to see.  I have also seen arguments that these kickback laws only apply when a health care provider is giving referral fees to other healthcare providers but you will really need to consult an attorney to find out for sure.
Groupon collects 50% of the price of the groupon as its fee; is that illegal fee-splitting under applicable state law?
Is the 50% fee an illegal kickback in exchange for a referral?  Are you subject to federal laws in this area in addition to any state laws?
Do provider agreements with third party payors prohibit the offering of discounts to plan subscribers?  (If you can get over the first two issues, you may need to screen out folks who are insured by carriers who limit your ability to discount or risk being in default under an agreement with your biggest customer.)
Here are some kickback laws :
New York – see #35 fee splitting http://www.op.nysed.gov/prof/mt/mtquesans.htm
Washington State – http://apps.leg.wa.gov/RCW/default.aspx?cite=19.68
Wisconsin (PDF) – http://www.healthlawyers.org/Members/PracticeGroups/FA/Surveys/Documents/State/Wisconsin.pdf
https://docs.legis.wisconsin.gov/statutes/statutes/146/81/1
IRS on kickbacks: http://www.irs.gov/publications/p535/ch11.html#en_US_2013_publink1000209182
See also: Health Care Providers' Use Of Groupon Stirs Up Controversy
There is also a Federal Anti-kickback law –42 USC § 1320a-7b(b)
How to run a successful Group buying offer if you so dare.
When you are looking at promoting your massage business with one of these companies be sure you know what you are getting into.  They usually ask you to discount your services by 40-50% .  What they do is make people pay them up front for the service and then they pay you something out of that amount taking their share for promoting you so after it is all done you prices are really at a huge discount.  You have to decide if your business will be able to handle offering massage at that rate and how you will be able to handle so many clients. You have to decide if the low price you will be eventually paid is really worth it.  You have to look at the reduced fee and the fee that you are missing out on as a marketing expense though.  It would be just like if you paid for a radio ad or newspaper ad.    There is usually a time limit on the offer.  Most of the companies will actually screen you to see if your company would work well with their services and will help you to prepare for the high number of clients.  Here are some things to be sure you ask about or figure out for your business before you advertise your services in this way:
Find out when you will be paid for the services.  One company I heard wasn't paying the therapists for 3 months or so after the offer.  You should be paid very quickly.
Set up limits on the offer – number of coupons to be sold, time available for appointments, new clients only, local clients only and anything else you can think of
Figure out your cost per client and see how many massages you will have to do to break even or make a profit.  Figure out how many clients you will need to convert into regular clients to make the numbers work.
Look at other offers on the sites if you can to see what others are doing.  Decide on your offer based on your own financial needs, budget and how many therapists you have and the time you have available.
Make sure you create a schedule that you can still accommodate your regular clients.
Be prepared to handle all the client inquires.
Create a page on your website with all of the frequently asked questions.  It can help save time and having to make phone calls to just answer simple questions.
You can negotiate different percentages with many of these companies.
Use it to promote less time intensive services but that are also higher priced like a couples massage class. (See more on how to set up and teach a couples massage class.) Another service might be an aromatherapy session.
The concern in offering massage at such discounted rates also requires that you do some careful thinking about what you are offering.  Some of the negative comments I have about the whole process was about poor service from massage therapists.  If you are a sole proprietor and doing all of the massage yourself, you will have a lot to handle.  If you are giving the work to independent contractors, be sure they understand the goal and don't feel resentful of working for such low wages.  It will show in their work.   The other part of this is often if you are an employee or IC, the business owner will try to pass the lower fee onto you and will pay you less and make you absorb the fee which is ridiculous.  It is the business owners expense.
The main goal in promoting yourself in one of these group buying places is to get a lot of people in the door to experience massage.  Many will be in mainly because of the low clients and won't really meet your vision of an ideal client which is someone who values massage.  You will have to keep focused on the end result and showing clients the results that massage can provide to them.  Have a marketing packet made up that has a few articles or research studies on something like back pain or depression to hand out to clients.  Have the articles also on your website.  It will take much more to try to convert people into a repeat client let alone a regular weekly or monthly client.
Do a very thorough intake with them to get to know them and get to know how you can help them best.  Do your best massage as always and teach them during the session how massage works and get them into their bodies to feel the effects and results.
Here are some good suggestions in the www.massageprofessionals.com forum.
The Value of a Massage
One of the main issues that is very controversial is that many think that this type of promotion is making people de-value massage and think that it should always be low cost.   They will think that this is hurting the massage profession.  The thing is we really don't know.  I wish someone would actually so a real research study on this.
Value is not the same as market price.
Value is in the eye of the beholder.  Just because people want to pay less, doesn't always mean that they don't value the service.  Yes, I am sure you will find more people who just want a cheap massage.  The thing is that they most likely don't know the difference between a really, really great massage – one that is totally geared toward their needs.  They do not understand how massage works or why it works.  They need to be educated as to the training and experience that you have and how your massage is different than everyone else.
We have to teach every client the value of massage through our attitudes, presence and caring.  Everyone has their own perceived value of everything including massage.  How much is it worth to them to feel relaxed and nurtured?  How much is it worth to them to be more productive in their life/work?  How much is it worth to them to be calmer and more centered/focused?  How much is it worth to run faster, hike farther,  ride a bike faster/farther?  How much is it worth to be pain free after years of being in pain?
Not everyone will be a keeper client!  Yes many if not most will be there only because of the price and no matter what you do, the won't get it.  People who are not able to see the value in massage are just misinformed.  Think of it as an education opportunity.  It is also really showing you what needs to be done on a larger level as far as showing people the value of a massage.  People just may not know how much time and energy you put into your career.  People don't know.  Don't waste your time or worry over it.  Don't let it get to you.  It isn't personal!  But it only really takes one person to become a regular client and by regular I mean a weekly client who will come for the next 20 years!  How much is that worth to you?
If a business continually runs a group buying deal, then that is another issue.  It will eventually devalue massage for that business and people will come to expect only cheap massage.  Running one once a year is different than running them once a month.  If you are having to do that – something is wrong.
If you feel like you are resentful when doing a massage on a group buying client or feel undervalued in your job or your life, it will come through in your work.  Offering your work at a discount can often leave you feeling undervalued.  You have to be strong enough in your own self confidence to successfully offer group discounts.  This is a good reason for getting regular supervision.
Alternatives to offering Group Deals:
Get your website into shape so that you can easily be found by the search engines and get most of your clients that way.
Offer your own discount on your Facebook page or other social media site. See the social media section.
Build your referral network.
While I have not seen any evidence of anyone enforcing this law or getting in trouble for running group buying deals, I would surmise that it is only a matter of time before someone starts complaining about them and everyone will be in trouble.
Save