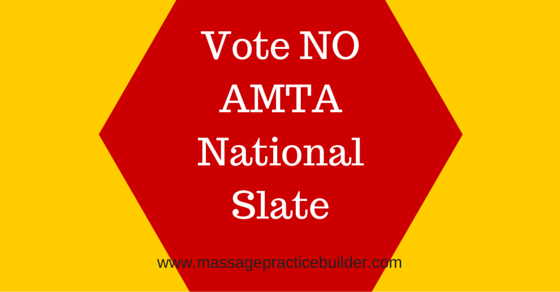 Today AMTA National announced their selections for their annual election.  Last summer they had changed they way members vote to a YES or NO vote for the panel that AMTA National Board members select themselves.  AMTA created a commission to choose the board members that they want to work with.  This is a common practice for boards in general, but it is not common for boards of associations that say that they are 'member driven'.  They seemed to change this quietly without much fanfare but to me it really seems like a big deal.
It seems to me that AMTA is more committed to have a nice board that doesn't rock the boat than addressing the difficult tasks of ensuring massage is a part of healthcare, through CPT codes that include massage therapy as practiced, and through inclusion on insurance panels." They would easily argue that it is in their strategic plan to work towards massage as healthcare, but they are not doing what we know will make that a functional reality. that is more the issue.
AMTA also stated some of the reasons why they were moving to this type of voting at their last meeting in August.  Some of the things mentioned were:
Not enough people vote so that tells us the membership is happy with the way we do things

 It is too expensive to hold elections, a slate would save us money

A slate would prevent any insurgency from taking over

A slate would prevent one State from taking over

We want to ensure a board who gets along

We don't want to hurt people's feelings which is what happens when you have an election where there are winners and losers

If people vote down the slate we will just know what they are dissatisfied with

We are not set up for asking what they didn't like about the slate selected, we will just try another slate
But here is the thing you don't know….
You don't know who had put their application in for each position that was open and you don't know who actually got kicked out.
Diana Thompson, author of Hands Heal, Documentation and SOAP charting expert, former President of the Massage Therapy Foundation, current AMTA-WA 2nd VP and a pillar in the massage community here in WA and across the nation for over 35 years had put her application in to run for a position and was denied.   She stands for everything about massage therapy becoming part of health care and massage therapy being accepted by health insurance and getting recognized by the medical profession.
Teri Mayo, the current AMTA-WA 1st VP, owner of Mayo Therapy Associates Medical Massage Clinic, and advocate for medical massage therapy was also running and she was denied a position.
Glyn Desmond, also of WA State, owner of Monroe Therapeutic Massage (a large multi-clinic medical massage office)  IS currently on the Board of Directors but he just got nicely fired with his term being up in 2/16 meaning he was not selected for this new slate.  In the spring of 2015, he was also appointed to a committee that dealt with creating new CPT codes after they so nicely let Susan Rosen (another leader from WA State) go after she had spent the last 9 years in the committee protecting our right to use the new CPT codes. (See article on what happened)   Now I am really concerned. Who is watching over the codes for us that are such vital part of our profession here in WA and across the nation?
These three leaders from WA State were  and the message is clear to me: AMTA National wants nothing to do with being a part of healthcare.   They don't value the importance of the CPT codes and the future of the massage profession.
Vote NO if you are an AMTA member and demand something better.  If Diana, Teri and Glyn, don't get back into AMTA National, there really is not much left except a great social club which is important too.
I in no way am saying that those who were selected are not deserving of recognition and deserving of these positions.  There were just much better, more powerful, more progressive thinking massage therapists who wanted to help get AMTA National back on track.  There just is truly something amiss.
Right now the massage profession is in a very big crisis.   Too many low paying jobs have made this career less appealing and the schools are struggling to find students to fill their schools.  The incredible increase in the number of franchises opening up, but they are unable to find enough massage therapists to work there.   With our profession struggling to stay afloat and all of the states are 20 years behind WA State in being accepted by health insurance – something is wrong.  (See also: Why is the massage profession so far behind in getting recognized as healthcare?)
I am not saying that every massage therapist will need to accept insurance, but for years now I have been leading a quite revolution with a closed Facebook group helping people who do want to be able to bill and get paid by health insurance.  This includes many hospital programs and massage business owners who want to see massage paid for and recognized for what it is.  Massage Therapy is medicine.  Could it one day be the number one treatment for headaches, pain, fibromyalgia, carpal tunnel and more?  I think so.
What you can do.
If you are an AMTA Member, please vote NO.  They apparently don't have a plan if the slate is rejected so that will be interesting in itself.   Write to Every AMTA Board Member and voice your concerns.   Tell them what you do want.
Join my closed Facebook group to work toward health care integration.
Learn to bill insurance : health insurance, car insurance and workers compensation.  I have written a book to teach you how insurance works so you can start learning the process and learning what you need to do to get paid.
Just Say NO……  HELL No….
In all clarity:  I AM NOT an AMTA member and probably will never be because of things just like this.  I was a member and did get involved in the AMTA-WA Chapter for a few years and could see that they were different than National. I personally never liked the AMTA National Politics and Positions they took ever since they started the NCBTMB which was supposed to be an entrance exam for AMTA and not this National thing which was never a true National License.
Why do I care about this as a non-member?  About 5 years ago, I went to AMTA-WA and asked every person I could find about what we could do about falling insurance reimbursement rates.  I never did get an answer except if that we could do something we would be doing it.   I did get involved for a few years and even was hired for a short time to work on their new website.  In the few short years of me volunteering, I have seen too much politics and downright BS.  I have since dropped my membership and still support what AMTA-WA is doing.