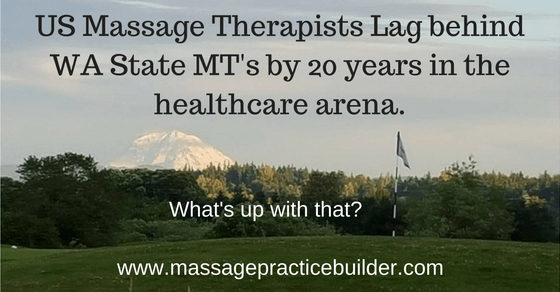 Massage therapists in WA State have been able to bill health insurance since around 1999. How is it that the other states lag behind in being integrated into healthcare?
How is it that WA State massage therapists are so far ahead of all of the other states as far as being involved in Health Care?
Is it more education?  No.  We have had 500 hours of required training since about 1989.
The one thing that has made the difference in WA State, is that there are people who are willing to stand up for the massage profession and help make changes.
How is it that we are even Health Care providers in WA?  It was actually by accident almost.   In around 1985 ish, some legislator inadvertently added massage therapy to the list of Health care providers.  Two massage therapists, Taya Countryman and Susan Rosen contacted the legislature and asked about it.  The legislator was going to take it off, but the two massage therapists took a chance and talked to them and showed them just how massage belonged under health care.   (This was told to me by Taya just recently – I didn't know all that!) There it is: People standing up for the massage profession.
In WA State, Massage Therapists are able to contracted providers with health insurance companies under the Every Category Law (WAC 284-43-205)  created by Deborah Senn the insurance commissioner of WA state at the time (1993.) This was part of the Health Care Reform Act in WA.  (Yes we had a health care reform act way before the ACA of 2010)
The law reads:
Every category of health care providers.

(5) Health carriers may not offer coverage for health services for certain categories of providers solely as a separately priced optional benefit.

(7) All health carriers and their plans, provider contracts, networks and operations shall conform to the provisions of this section WAC 284-43-205, by January 1, 2000.

[Statutory Authority: RCW 48.02.060, 48.18.120, 48.20.450, 48.20.460, 48.30.010, 48.44.050 and 48.46.200. WSR 99-16-036 (Matter No. R 98-20), § 284-43-205, filed 7/28/99, effective 8/28/99)
I have seen Deborah Senn speak at a few conventions and have heard her explain how it all came to be.  Basically, she had a massage therapist who helped her get better and this massage therapist – Lori Grassi (formerly Belinski) was very politically active and a member of AMTA-WA. (I also heard that Lori  might have worked with Deborah Senn in her law office.)  Together they created the law. The statute was supposed to go into effect on Jan 1, 1996. The insurance companies fought the law for many years until finally in about 2000, there was a US Supreme Court decision that upheld the law in 1999 and made it so.  It took another few years to implement and get the insurance companies organized.  Senn was taking a stand and making a difference for the massage profession in WA State.
There was a Clinician Workgroup that was created and who wrote this report that includes the timeline of events which ends with a Supreme Court Ruling – Issues in Complementary and Alternative Medicine Services.   The workgroup was also instrumental in pulling information together for the insurance companies to help them figure out how to integrate us into their system.
Massage Therapists must first apply to be contracted providers.  The process involves filling out the credentialing application and being approved by each insurance company or their representative organizations.  That process is all done online through www.providersource.com.   You can bill electronically though www.officeally.com and also be paid by direct deposit by many of the companies.  It is getting easier and easier to bill and get paid with the help of technology.
It is also required that you have an NPI number and be HIPAA compliant.  Billing is done electronically along with payments from the insurance company.
Here is a list of the some of the major providers in WA State:
Aetna, Cigna, Group Health and Corvel are managed by Whole Health Networks.
Premera Blue Cross
Regence Blue Shield
First Choice Health
On the other hand, most of the provider lists are now closed to new applicants so you may have to get on a waiting list.   The  allowable fees that the insurance companies pay have been reduced in the past 3-5 years.  They used to pay somewhere in the range of $70-$130 for an hour massage and I would say the going rate is more like $60-$70 an hour (including co-pays/co-insurance payments).  The number of sessions allowed keeps getting reduced and one company is requiring pre-authorization and limiting sessions based on their own determining factors which are unknown (to me anyways!)  So overall the process is getting easier to bill and get paid, but the insurance companies are still mainly concerned about their profits.   Self insured companies don't have to abide by the rules of regular insurance companies so big companies that can afford to create their own health care plans are exempt from having to allow massage therapists to be on their provider lists.  (Although this should have changed under 2706 of the ACA but no one is challenging it – yet.)
The one other good thing is that there are plenty of massage therapists doing just that and there is power in numbers.  You can learn and get support for the extra challenges and issues.  It can help keep your massage business stable in any economy as people will always come in under their insurance when they need it.   Hospitals are looking to massage to help them have better outcomes using massage in headache and pain clinics as well as birthing centers, cancer wards and hospice care.   Wouldn't it be amazing if massage could be covered on insurance in those cases?
So what is a Massage Therapist and the massage profession to do?  Do you want more regular weekly clients for a short time, that have injuries and health conditions that you have to deal with?  Do you want to keep up to date with all the laws, regulations and procedures?  Do you want to fight the battle for better allowable fees (what you are paid) and for better benefits?  What if massage could be the first line of treatment for the many pain conditions that are often treated with addicting drugs?  What if you could get regular weekly massage to help during stressful times?
If you are wanting to get the health insurance companies in your state to include you in their system here are some things that you can do:
Learn to bill insurance so you know what is going on and can see first hand what needs to be done.  Just commit to taking on one or two cases to learn the ropes.  I am not talking about having a full practice of all insurance billing.  I have an easy to read book on the procedures for billing and offer support in a closed Facebook group for any questions you may have on billing insurance.
Contact Your Local AMTA Chapter.  They are more politically active.  If your chapter is clueless, then consider starting something and working with the Government relations person to get something going.
Gather some friends together to help you.
Find out if you are considered to be a healthcare provider in your state.  WA, FL, NY, NC, GA, MI, OH, VA, MD (LMT's only), WA DC, TN seem to be under this classification.  You have to check in your state health care laws which is a different section usually than just your massage licensing laws.  To get your state to consider you to be a HCP, you will need to do some legislative work.  I know in WA, it was actually almost a fluke that we got that status.  About 20 years ago, one of the law makers mistakenly put massage in the HCP category and when 2 of WA states MT's saw it they confirmed it and also stood up and proved that we should stay in that category.
Contact the office of the insurance commissioner and start asking what will need to be done to implement 2706 of the Affordable care act.  You will most likely need this document (PDF) that was created by AMTA-WA for the WA State Office of the Insurance Commissioner to show that massage is part of the Essential Health Benefits.
Contact Integrative Healthcare Policy Consortium ( IHPC ).  They are the only organization I could find that was doing anything actively to get 2706 implemented.  Last year they hired Deborah Senn (WA States past insurance commissioner who created the every category law in WA.) to go to some of the states to see what needed to be done to get the law implemented.  The chiropractors actually were part of hiring her.  She is a great resource.  IHPC could also use money so that they can hire more people to start standing up for us.
Create a new state organization in your own state like WA State just did – www.mywsmta.org
AMTA National and other massage associations have let us down.  They should have been working on this across the nation starting in 1996 when Debra Senn created the law here in WA.
We need more massage therapists to start billing so you can see how things works and see what needs to be done.  We need more legislation, more education, more research and more massage therapists getting involved politically to make this all happen.  We need the to get more politicians on our side.   We need YOU to help us change things.
There is POWER in Numbers.
If we are not at the table, you are on the menu ~ John Weeks
Save
Save
Save
Save
Save
Save