Yes indeed,  Laundry is one of the biggest indicators that your massage business is going well.  I bet you didn't know that doing laundry would be such a big part of doing massage!  I probably would have went into something else! Haha!
Sheets are an important part of the process of the massage itself.  I purposely choose sheets for each client and think of them usually when putting the sheets on the table. Colors and textures can make an impression.  The way the sheets look on the table when the client first comes in to how they feel when they are on the table are all apart of creating an image.  Sheets and draping are one of the components that create a component of trust and help the client to feel secure on the table.  Men in particular are often more sensitive to thin sheets fearing the dreaded "E" during the massage.
What do you want your sheet to say?
What do your sheets say?
There is nothing worse than the oily smell of sheets or having sheets that are old and frayed.  Your sheets make an impression so why not start out on the right foot….er…sheet.
Not all sheets are created equal.  Your laundry job can be made much easier by getting the right sheets in the first place.  There are some sheets that just hold the oils/lotions more and just want to soak it all up!  You can almost tell by the feel of the sheets – they feel almost dry or scratchy in the wrapper.
Percale is one of the most basic types of sheets.  I had a client describe it as "Oh I got the crispy sheets today!"   Percale refers to the type of weave and they can be 100% cotton or a combination of materials.
A poly/cotton combo tends to clean easier than most but again it depends on the weave.
The new microfiber sheets tend to hold oil more which could also be a big problem in the dryer as in catching on fire!
Flannel sheets seem to be popular at many massage places because they are cozy feeling but there are also flannel sheets that sort of 'stick together' making it difficult for the client to turn over because the sheets don't move easily.   They also pill easily and can be a problem for dryers because they are heavier and produce more lint.
The oils/lotions that you use also vary in how easy they come out of fabric.  Jojoba or Fractionated coconut oil seem to wash out the easiest with almond and grapeseed oils being the hardest to clean.  Some massage lotions/oils such as those made by Bon Vital have an additive that makes the lotions/oils come out of the sheets easier.
The sheets, pillow covers, face covers, blankets and the massage table itself are potential carriers of disease and body fluids (blood, sweat, seamen,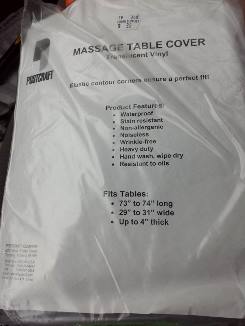 mucous, tears) along with the shedding layers of skin cells.   The Occupational Safety and Health Administration (OSHA) says:
Some infections that can be transmitted through contact with blood and body fluids include: HIV, Hepatitis A, B, C, Staph and Strep infections, Gastroenteritis-salmonella, and shigella, Pneumonia, Syphilis, TB, Malaria, Measles, Chicken Pox, Herpes, Urinary tract infections, and Blood infections. The greatest risks are from HIV and Hepatitis B and C.
The thing though is that when it is on the sheets is it less of a problem as per the CDC.
Cleaning Sheets
Cleaning the sheets is an art form.  It is for sanitation and for the longevity of the sheets.   I have heard so many horror stories of massage therapists layering the sheets
on top of each other for efficiency of time which compromises cleanliness, that it really scares the heck out of me!  In WA State it is actually a law that there needs to be an impervious layer between the sheets and the massage table so sheets can remain clean which means you also have to clean the impervious layer!
(5) All single service materials and clean linen such as sheets, towels, gowns, pillow cases and all other linens used in the practice of massage, shall be furnished by the practitioner for the use of each client. Linens shall be stored in a sanitary manner.
(6) All towels and linens used for one person shall be laundered or cleaned before they are used by any other person.
(7) All soiled linens shall be immediately placed in a covered receptacle.
Use Warm water (71+ degrees)
Vinegar and Baking Soda
Borax
Washing Soda
Try dishwasher soap for sheets that seem to absorb oils more
Try Dawn Dish Soap (Blue Only) to treat spots like mascara in face rest covers.
Oxyclean can also work to get out oils/stains
Dry on High Temperatures
Remove from Dryer immediately to reduce wrinkling
Folding the Fitted Sheets
The easiest sheets to use on your massage table are the flat and fitted sheets that fit twin sized beds.  For the life of me, after 25 years of doing this, I still can't fold a fitted sheet properly.  I usually try to get them out of the dryer and right onto the massage table to avoid folding.
I have watched a few videos and tried many times, but it is just not in my nature!  Well until I finally watched videos on Youtube for about an hour on how to fold a fitted sheet and found this guy!
See also:
Hygiene Fact and Fiction Taking Care of Us to Take Care of Them By Ruth Werner
Save