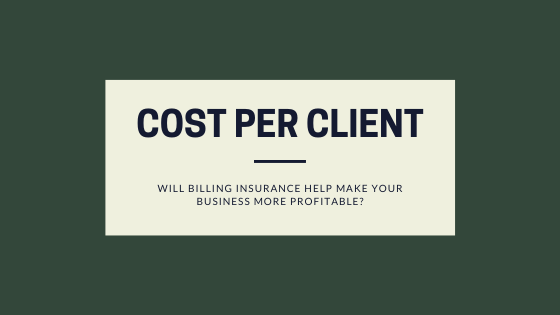 Billing insurance for massage may be one of many ways to help make your business more profitable. If you need more clients as you are building your business, taking a few insurance clients here and there may help but you will need to figure that out from a business standpoint. Will it help make your business more profitable? To figure that out, you will need to know what your cost per client is.
I have always used this basic formula:
Cost per client formula:
Compute your office overhead for a month:
You can take the last 12 months and divide by 12. If you haven't been working for a year, you can estimate using numbers from the time you have worked.
| | | |
| --- | --- | --- |
| | Sample | |
| Salary/needed income | $4000 | |
| Rent | $600 | |
| Other salaries | | |
| Office expenses | $150 | |
| Office Supplies | $50 | |
| Marketing | $200 | |
| | | |
| | | |
| | | |
| | | |
| | | |
| | | |
| Total Expenses per month | $5000 | |
| | | |
| | | |
Compute the number of patients for the month. You can use last years patients divided by 12 or estimate the number for this year.
Sample: 15 clients per week x 4.2 weeks/mo = 63 clients per month
Cost per patient = Total monthly expenses____ divided by Total monthly patient visits
Sample: $5,000 ¸ 63 = $79.00
This is what your cost per patient is.
Evaluate
If you expect the number of clients to go up per month by 21 (5 per week) your cost per client will go down.
$5000 ¸ 84 =59.52
$59.52 will be your new cost per client.
What is the amount that the insurance company will be paying you?
Less than that or more than that?
Will it be worth it to take on new clients at that expected rate?
Will you get too many clients that you will have to hire office support to do the extra work involved? Hiring someone will increase your expenses and increase the cost per client.
The thing is figuring out what insurance companies might pay you. In most states you can accept workers compensation. You will have to do some research and find the workers compensation website and then find out If you can be a provider for them and then find out what their fee schedule is. It should be public knowledge. While you are on their site also look for what you need to do to become a provider. Many states will also offer classes in how to bill worker's compensation.
You may also be able to bill for car accidents (motor vehicle collision (MVC) is the new term!) You will need to find out if you are able to bill for car accidents in your state. I would start with contacting your local AMTA chapter. If they do not know, then you will just have to ask other therapists or ask an attorney who specializes in MVC's. Many attorneys are always looking for providers who they can refer their clients to.
So once you get an idea of what they will pay you can go through the formula and calculate your new cost per client and see if that would make your business more profitable.
It is your choice whether to take insurance or not. In most states you can bill for car accidents and work related injuries. More and more health insurance plans are covering massage therapy. More and more associations like the US Pain Foundation are calling for the inclusion of massage therapy in healthcare to help with the Opioid epidemic. There are many challenges to billing insurance with the paperwork that can be easily learned from my book the Massage Insurance Billing Manual. The one thing we are lacking is that our associations are NOT at the table with the health insurance carriers and we need to get there. If we are not at the table, we are on the menu. Learning to bill can help get us to the table.