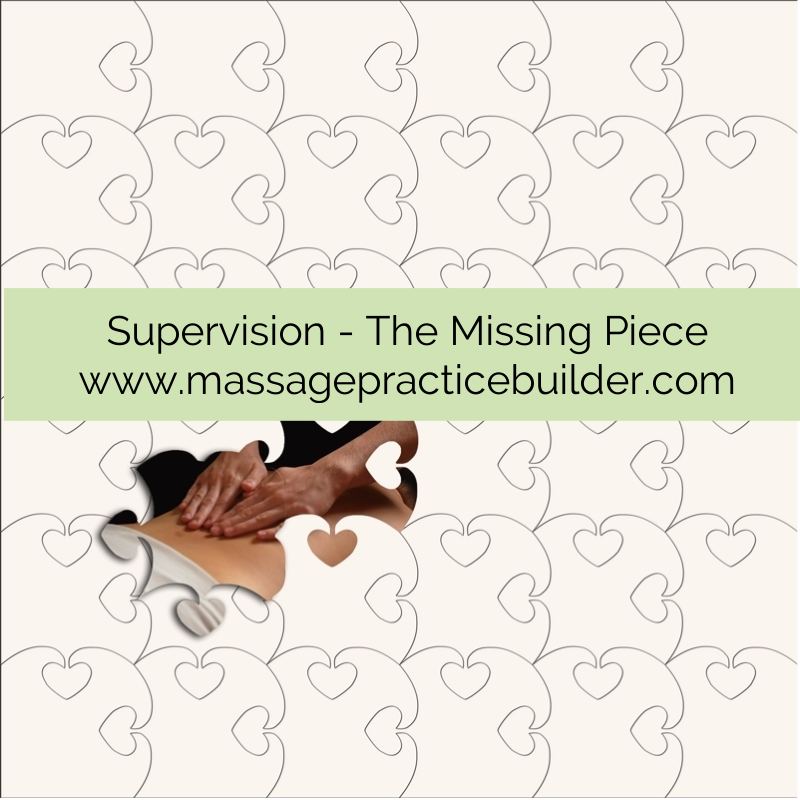 Supervision aka Clinical Supervision is one of those things that is difficult to explain.
I found Supervision or it found me in about 2001, after a few years of dealing with a minor illness that kept me from working to my fullest ability.  I had also been a massage therapist for about 12 years at that time and had created a successful massage business in downtown Seattle.   I also was burned out after doing 5 years of intensive training in the mid-90s where I took over 1000 hours of continuing education classes in a type of Structural Integration – Zentherapy.
Somewhere in the middle of being sick, feeling burned out and feeling frustrated with my career, I read a the first article that later became this series of articles by Jack Blackburn. (links are to Jack's Website and open in new windows)
Caretaking, A Hidden Addiction in Bodywork Part I (PDF)
Would you like to experience less stress and be more effective in your work with clients?

Would you like to feel more balance between your practice and your personal life? As an entrepreneur would you like to be more prosperous and less conflicted about charging for your services?
When we caretake we assume responsibility for our clients' healing. When we caregive we support clients in assuming responsibility for their own healing.
In all helping professions it is necessary to discern whose needs are being met; the practitioner or the client… this is a major reason for supervision
Caretaking, A Hidden Addiction in Bodywork Part II (PDF)
Ours is a caregiving profession and as such we struggle with a dilemma all caregivers must deal with: how to balance the quantity and quality of care with the client's ability to care for herself. How do we know when we've given enough? When are we taking on too much of the client's burden?
Addictive Caretaking – Part III (PDF)
There is little satisfaction in carrying others' burdens especially when the burden includes guilt for what isn't happening. We tend to work too hard to satisfy our clients' needs and overlook their responsibility. As we strive harder and harder to take care of our clients' symptoms, we accrue more and more of our own symptoms.
Caretaking, A Hidden Addiction in Bodywork Part IV – (PDF)
These articles really moved my soul and lead me to Spokane to take a class with Jack at the AMTA-WA Convention.   It was just one of those 3 hour classes but it was life-changing.   When I got back, I contacted two of my friends and made them read the articles and asked them if they wanted to join me in supervision with Jack.  They immediately agreed and off we went.  At the time, I don't think we really knew what we were getting into.  I know I just wanted to start talking about all of the things that I was dealing with and I wanted to get help with deciding if I should continue on with my career.
What happened was that 13 years later (2014) we are still meeting regularly – about once a month to get together and talk and support each other in the process.
Supervision is being able to talk about the many challenges that go along with being a massage therapist.  Jack also introduced me to the idea of the Ideal Client and some of the work in the early years was taking a look at that.  Some people today think of that in terms of marketing, but in this context is is more about working with clients who are nurturing and uplifting rather than those that are draining. That doesn't necessarily mean you can or have to fire all of your draining clients.  It is also about looking at what is draining you.  It is usually not the client or the situation but other areas in your life that affect how you feel and your daily work.
I also got out an old book of mine that I had gotten in massage school – How can I help?  By Ram Dass.  At the time of reading that book in massage school I thought – oh that isn't me.  One of my most favorite articles "In the Service of Life" (PDF) by Rachel Remen MD also started making much more sense.  You really need to read that whole article before continuing.  I wanted to post a few quotes but I started copying the whole thing.  It is short!
Fixing is a form of judgment. All judgment creates distance, a disconnection, an experience of difference. In fixing there is an inequality of expertise that can easily become a moral distance. We cannot serve at a distance. We can only serve that to which we are profoundly connected, that which we are willing to touch.
It turns out that wanting to help others is often really to fill your own needs for feeling good about yourself.  It becomes an addiction almost.  Massage schools will teach you to help and to fix others.  Working in healthcare and billing insurance also makes us help and fix other.  You have to show improvement or they won't pay.  So with fixing and helping surrounding us, how do you know whose needs are being met in the process? At times people really do need help.
That is where Supervision comes in.
For many years I also thought that it should be called something different because it makes people think that someone is going to 'supervise' and tell people what to do.  It is so far from that, but it makes it more confusing.  After being in Supervision for awhile, I thought that it needs to be called that despite the confusion!
So what is supervision and who needs it?
Supervision is the process of working with another person in the massage profession for the purpose of getting your own needs met so that you can be more aware of when your sessions are more about you or more about the client.
You might find supervision helpful in dealing with some of these kinds of client scenarios:
Feeling frustrated when you feel like clients are not getting better or your work is not enough
Feeling annoyed with your clients when they do all the crazy things that people do – not showing up on time, cancelling at the last minute, texting you repeatedly for a last minute appointment,  dealing with the calls from 'creepers', and the list goes on.
Having feelings for a client making you want to become more and date them or just become friends
Feeling like you take on client's symptoms as in you had a week full of clients with neck pain so now your neck hurts.
Having difficulties setting boundaries like cancellation policies and enforcing the policy.
Feeling like you need more hands on training/skills because yours are not enough.
Feeling frustrated that clients are trying to control your sessions.
Feeling drained at the end of the day/week…more than just tired.
Find yourself venting on Facebook discussion groups on massage.
Feeling isolated in your work.
Feeling bored with your work with clients.
Feeling burned out and lacking inspiration
Supervision is the process of being listened to through the many struggles and challenges of being a massage therapist.
Supervision is the process that supports you while discovering your boundaries and dealing with the many ethical challenges of being a massage therapist.
 Results of Supervision
Many people at first might think that getting regular supervision sessions or meeting regularly with peers will immediately get you some really concrete results like 5 more clients a week or something like that.  What I have gotten out of supervision is something more like this:
More self confidence to keep creating higher cancellation fees and gathering more confidence to enforce them regularly
A sense of peace knowing I know what to do when I am faced with challenging clients or that I can get help with dealing with them
A sense of relief knowing that others are feeling and experiencing some of the same issues and feelings that come up when dealing with clients on a day to day basis and also the more challenging clients.
Knowing that I am not alone or the only one! Being so isolated can bring many challenges in itself.
When I first came to supervision, I was also officially burned out and dealing with many small health challenges.  The support that I was able to receive and continue to receive is one of the main reasons, I have been able to stay in business for so long through the many years. (25 to date!)
As a result of the support, it also brings me many new ideas and inspiration to keep going!
For more reading: