Massage Therapists are licensed as Health Care Providers. (need citation/resource)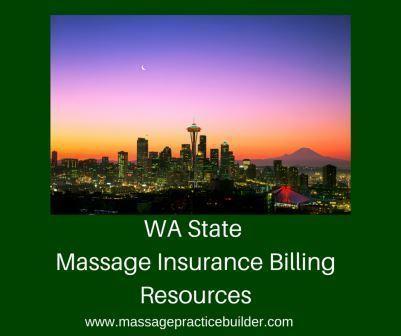 Every Category Law makes it mandatory that massage therapists be included as providers for health insurance plans.
 Labor and Industries
Health Insurance
Apply to become a provider with Health Insurance
Most of the lists are closed to new providers.  You should still fill out an application and request to be on the waiting list.  You might also want to call them weekly to get on the list.  Another idea is to call the local massage therapists who are in your zip code who are already on the list of providers for that insurance company and ask if they are accepting new clients or find out if they are still in business.  Often times therapists will leave the network but the insurance companies don't seem to add new therapists.   The insurance companies must provide enough therapists in each geographic area.
Healthways/Whole Health Networks covers Cigna, Aetna, Group Health and Corvel which is a combination of auto insurance companies.
Premera Blue Cross/Lifewise WA
United Health Care – Use CAQH.org to credential http://www.caqh.org/overview.php
Regence Blue Shield
Preauthorization for Regence Blue shield required through Carecore.com.
Regence Uniform is exempt from preauthorization as well as some other companies that are self-insured.
Care Core details: 
Massage therapy treatment request

clinical worksheet (PDF)  –

  You will  use this when you request more sessions after the initial approved sessions are completed or the time allotment has passed.
You can use www.officeally.com for free to bill these companies directly electronically.
Receive EOB's through officeally.com
In order to receive ERAs (Electronic Remittance Advise) through Office Ally you would want to complete the ERA pre enrollment forms for each payer. To find the ERA enrollment forms you will want to go to Resource Center > Payer Enrollment Forms. On the Payer Enrollment forms you will see the link for Electronic Remittance/ ERA/ 835 Enrollment forms which will take a you to a list of alphabetized payers and their instructions for ERAs.
Receive Payments through direct deposit.  Contact each company to set this up.
 Personal Injury Protection (PIP) Motor Vehicle Collisions
You can also bill massage services for car accidents.  Start with making sure that the client has personal injury protection benefits in their insurance plans.  That will cover the costs up front up to whatever limit they have on their policy making it so that you can get paid right away and not have to wait until the case settles.
Personal Injury Protection is required by law.  The customer can also decline having PIP coverage when they can prove they have health insurance coverage and say they don't want PIP.   Make sure the customer has this in writing, or PIP must be part of the insurance.
Client will start PIP claim through their insurance.
Prescription required
Confirm benefits and the amount left in the PIP account by calling the claim manager.
Find out where to send the bills and if you will need to send the prescription and chart notes with the bill. (The answer is usually yes.)
Send completed bills.
Third Party Claims
When PIP benefits are used up, the claim moves to a third-party claim.  The insurance of the person at fault will get money at the time of settlement to pay remaining bills.  Be sure to have the client sign an official contract saying that they will pay the bill.
Resources:
Office of the Insurance Commissioner – http://www.insurance.wa.gov/
Retention of Medical Records – http://www.doh.wa.gov/Portals/1/Documents/3000/MD2013-08RetentionOfMedicalRecords.pdf
CE Requirements – http://app.leg.wa.gov/WAC/default.aspx?cite=246-830-475
Laws and regulations
Massage Businesses must be owned by a Health care provider – Statute Laws (looking for resource on this).  Yes that makes Franchises/spas/Clinics that are not owned by a MT, DC, MD illegal.
Chapter 19.68 RCW REBATING BY PRACTITIONERS OF HEALING PROFESSIONS
WAC 246-08-400 How much can a health care provider charge for searching and duplicating health care records
RCW 25.15.045 Professional limited liability companies.  Massage Therapists must create a PLLC (not a LLC).
RCW 18.100.050 Organization of professional service corporations authorized generally — Architects, engineers, and health care professionals — Nonprofit corporations.
WAC 246-830-040 Equipment and Sanitation -http://app.leg.wa.gov/WAC/default.aspx?cite=246-830-040
Scope of Practice   (6) "Massage" and "massage therapy" mean a health care service involving the external manipulation or pressure of soft tissue for therapeutic purposes. Massage therapy includes techniques such as tapping, compressions, friction, reflexology, Swedish gymnastics or movements, gliding, kneading, shaking, and fascial or connective tissue stretching, with or without the aids of superficial heat, cold, water, lubricants, or salts. Massage therapy does not include diagnosis or attempts to adjust or manipulate any articulations of the body or spine or mobilization of these articulations by the use of a thrusting force, nor does it include genital manipulation. http://app.leg.wa.gov/RCW/default.aspx?cite=18.108.010
IC/Employee
L&I – Hiring an Independent Contractor (PDF)
Research Resources
Summary of Evidence (PDF from AMTA-WA website) – How Massage Fits into the Essential Benefits of the ACA.
Heal-wa.org  – Great free resource for licensed massage therapists in WA State. Find research papers, CPT code books and more.
Save