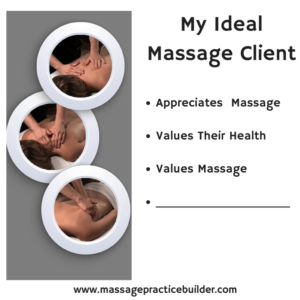 I first heard about the concept of the "Ideal Massage Client"  in one of my early sessions with my supervision group in about 2001.  Creating a vision of who your ideal client is and working towards having a massage business that is filled with clients who are all 'ideal massage clients'  is just another form of self care!  For the longest time, this made me feel so inspired and so much better when working with clients. The basic ideal client was one who appreciates massage, values their health and values massage. They show that by being on time for appointment, coming in regularly and referring their friends and family.
Someone who may not be an ideal client would be someone who is always late for their sessions and expect the full amount of time or who don't show up at all and don't contact you. Someone is not an ideal client if they try to direct the sessions and complain the whole time about their lives or bring uncomfortable topics into the session like politics or they start telling you how they are sleeping around on their partner who is also a client.
The marketers will tell you that Your ideal client will be very fulfilling to work with and You will do your best work when you feel fulfilled.  Working with less than your ideal client will often leave you feeling drained and tired, frustrated and possibly even resentful.  If you are feeling drained and uninspired after working with someone, it isn't about them….It is about YOU. These are the clients that you will learn the most from. These are the clients that will make you take care of yourself better so you can be there for them.
It was a way to let massage therapists think that they could just fire people who were not their Ideal Client and that would be the end of it.
No such thing as an ideal client
In the last few years though, I have come to realize that this is just hyped up marketing talk to make you feel better for awhile. There really isn't any formula of an ideal client. People are people. They come late and have unreasonable expectations. They do annoying things. Clients are not always easy to work with. Being a massage therapist means also being a professional and having boundaries. It is your job to deal with difficult clients in a compassionate and caring way, yet stand your ground and ask them to comply with your policies and boundaries.
The first sign that a person is doing something that is annoying or that does not comply with your policies, they need to be informed that there are rules and consequences. There are late fees and no show fees and rules for when they show up late. There is massage table etiquette directing how much people talk on the table and what they talk about.
Holding your boundaries
   In order to be able to work with difficult clients, you will need to do your personal growth work to work on yourself to be strong enough to deal with every challenging client in a professional manner.
Learning to address issues with clients the minute they begin will help get you started along this path. It may start out being difficult to do and you will struggle to find the right combination of compassion and boundaries but with practice, it will get easier every time.