I have had the luxury of being able to stay home during the last 18 months and now am headed back to the office to rebuild my massage business. I did work one day a week seeing a few of my regular clients. I have my office in downtown Seattle which has been hit hard by the pandemic. Most of downtown is filled with office towers and tech companies who were all sent home to work on March 8 2020 and still haven't returned. The drug dealers/users and homeless have taken over the downtown area, making it unsafe to walk around downtown. The businesses on my street have closed down for good – A grocery store, a burger shop, TJ Max, a Starbucks, a small deli. There is a higher end restaurant that was closed all this time and just a few weeks ago, reopened giving me hope that downtown can be revived.
First steps
It took me a lot of time to process going back to the office. My time at home has been so amazing.
I got off of all health insurance panels which I have been on for over 20 years, billing health insurance here in WA. In the beginning the pay was great and people had good benefits and the carriers left us alone for the most part. Over the years, the carriers have reduced benefits and pay making it impossible to make a living on the low fees especially for my downtown area where the rent keeps going up and up. It was time to get out and start fresh. So I ended my contracts. Billing insurance has really helped my business stay stable over the last 30 years and it can still be good for your business.
I also raised my rates $25.00. The added expenses like cleaning and having to take more time between clients is one factor. My office building front door is now locked with a security guard on duty who lets people in, but they are not consistently there so I have to go 8 floors to let people in. I try to be there early so I don't miss them.
First Contact
I did not really keep in contact with my clients over the past 18 months except for keeping my website and Google business listing updated with my announcements regarding closing and when I planned to open. I only posted on my Google Business listing a few times.
I emailed most of my past clients and only a few responded with making appointments. About a half dozen were lost because I was not taking their insurance any more. I have to admit I was worried if I had done the right thing.
Google Business
I posted on my Google Business listing on Sept 30, that I was open again. It boosted the traffic to my website but still not the appointments I needed…only to discover that my online booking system was still set to only take current clients in the system. Changed the setting and I had my first week with 3 days of office hours and 6 clients – 4 of them new, 2- 90 mins, 4- 60 mins.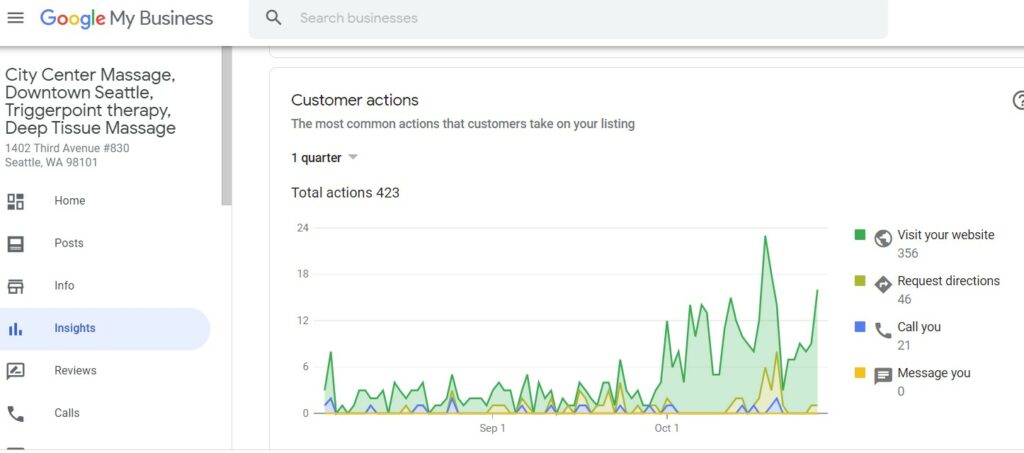 Google Business Stats show increased traffic to my website immediately after post.

Building slowly
This all happened over the summer and it happened very slowly.
I have to say that I was exhausted after those 3 days! I am such an introvert and have loved being able to stay home and have limited interactions with people so having to talk to people about their health and wellness was fun again but it took a lot out of me to be 'on'.
My goal is to work up to seeing 8-10 clients a week as compared to the 15 or so a week I did pre-covid. I just want to work smarter, not harder. Seeing how exhausted I was, it will take time to build up to seeing that many clients.
This week I will post on Google Business again.
So far I am seeing that having a Website that Works and using Google Business like by 6 step forumla, adovacates is still a valid way to go.
Stay tuned…lets see what works and what doesn't.