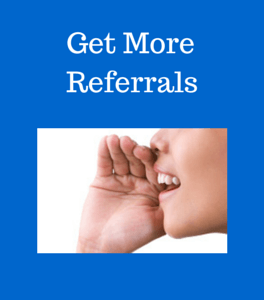 Getting doctors to refer clients to your massage business is a big challenge still today even with massage being more accepted and having more research available.  Doctors are usually very busy and don't have time to learn about something like massage.  There are many doctors and health care providers that would really be helping their patients if they referred more to massage.  Here is a short list of some:
Chiropractors
Doctors – OBGyn, Orthopedic doctors, Osteopaths, General practitioners
Acupuncturists
Physical therapists
Dentists
Find the Right Providers
One of first things you want to do though is to actually take the time to find out something about the doctor/provider that you are looking for referrals from.  You may not want everyone to refer to you.  I once had a chiropractor that used less than ideal billing practices that clients were unhappy with.  It is difficult to actually find out things like that right from the beginning.  I actually have gone in as a client to a few different chiropractors and got treatments from them to learn what type of work they were doing and see what their offices were like.  You can also do something like just drop into an area office and ask for a brochure or business card and say you are looking for that type of provider to refer your massage clients to.   Once you get some info and decide you would like to work with these professionals you can then begin a campaign to create relationships with them
Sometimes just starting out as a client of theirs can be enough.  But you of course can't go to everyone out there.  Another idea is to go to places where they might be like classes or workshops or health fairs and talk to them.  There are sometimes buildings in downtown Seattle that offer small health fairs for people to go and meet practitioners.
Sending Letters
If you are starting out blindly with a letter campaign I would suggest writing letters with the intent of referring to them first and ask about their business etc and tell them how you might need to use their services.  You can tell them what kind of clients you work with a lot.  For example a sports medicine doctor may be needed if you work with athletes.   You can tell them what your athletes do and what kind of issues they may need help with of course without naming names due to privacy issues.  Ask if they can handle that sort of patient.  Also if you are writing letters just randomly to doctors/others in your area, don't be discouraged if they don't reply or if nothing happens for awhile.  Send a few letters spaced out a few months apart or as you can.  Send different materials such as research studies or more proof of how massage works or case studies you have had.
If you are sending out mailings the best thing you can do really is develop a section on your website for doctors/health care providers and provide research or other insights into how massage works and what it can do.  You can make it password protected to make it seem special or just have it available for clients to read too.  You will have to be sure to write so that both can understand.
You can also take the approach a step farther and ask the practitioner/doctor if they would write a short article for your website or find out if they have something on their website that you can use.   You can also ask the provider for a link to your website and maybe offer an article that they can put on their website.
I personally have not sent any letters to physicians to try to start the networking.  I always seem to meet them in person or through someone directly.  If you were going to write a letter be sure to start it out by asking about Them first.  Keep it short and to the point and tell them to visit your website for more info or to call or email with questions.  You really have to send letters repeatedly to get to a doctor.  Most doctors won't even see the letter as it will probably be intercepted by the receptionist or assistants.   They don't have time for that sort of thing really.
If you really want to get referrals from doctors – go to where they are.  Go to the conventions and conferences in your area and go to learn.  Chiropractors, PT's and specialty providers like sports medicine or labor and delivery will have meetings and conferences.  There will also be conferences on Pain and   Interact with doctors in a way that show you are interested in what they are doing.  I have seen many massage therapists who want to network with doctors and then they go and say things like they want to get their clients off of all the treatments the doctors are doing.  You have to learn to work with what they are doing and also to speak their language.

After you get a referral from a doctor/health care provider the most important thing is to follow up and send a progress report even if they don't ask for one.  More are asking for them these days from what I have experienced.  It is a great way to show them what is working for clients.  When the clients go back into their office and report back the success that is also good for marketing.  Be sure to write chart notes to follow their progress.  The best source for learning about charting is a book called Hands Heal:
Communication, Documentation, and Insurance Billing for Manual Therapists
by Diana Thompson
See also: Working With Physicians (with sample letters) from Laura Allen and the Massage Therapy Foundation
All it really takes is getting a few good doctors, chiropractors or other heath care providers to start referring to you.  If they like your work and hear good things back from the patients, they will start referring more and more people to you.   Use your time wisely and put your focus on finding out WHO you want to get referrals from!

Save
Save
Save
Save