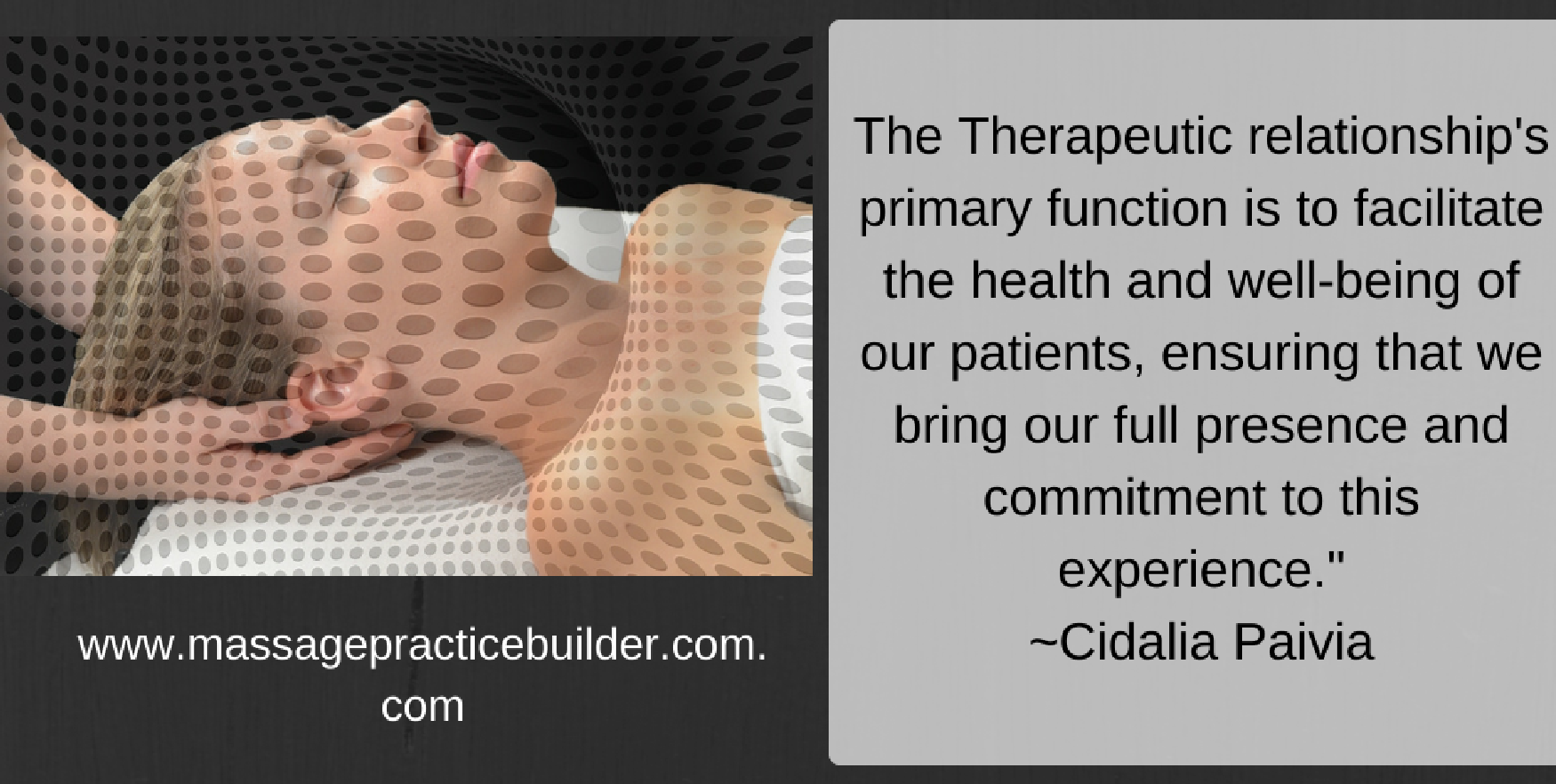 The therapeutic relationship that occurs between a massage therapist and a massage client is one of the keys to being a successful massage therapist.  The therapeutic relationship is what allows healing to happen for both the massage client and the massage therapist.
The therapeutic relationship is talked about by many authors in the massage profession.
Cidalia Paiva, PhD in her book "Keeping the Professional Promise" says this:
In the therapeutic relationship we are not simply serving the interests of persons: we are specifically serving the health care interests of vulnerable persons….
She goes on to say: The therapeutic relationship's primary function is to facilitate the health and well-being of our patients, ensuring that we bring our full presence and commitment to this experience.  In order to be fully present in the therapeutic relationship, it is critical for the therapist to be self aware and personally responsible…. Therapeutic progress can be blocked when therapists use their patients, perhaps unconsciously, to fulfill their own needs: to caretake others, to boost weak self esteem and to feel capable and/or powerful.
Nina McIntosh in her book "The Educated Heart" says that "boundaries are like protective circles surrounding the professional relationship.  Rather than being barriers that separate us from our clients, boundaries safe guard both practitioner and client."  The therapeutic relationship is focused on the well being of the massage client.
The dynamics of the client-practitioner relationship are complex and often subtle.  Our clients automatically give us more power than they would for instance if they met us on the street.  They are often looking for us to alleviate their physical, or emotional distress or discomfort which puts them in a vulnerable and dependent position…Our task is to meet our clients' vulnerabilities with respect and kindness and we do that by maintaining secure boundaries.
Cherie Sohnen-Moe in her book "The Ethics of Touch"  says that " practitioners must have a thorough understanding of the meaning of the therapeutic relationship; power differential, transference ;  counter-transference; projection; repression; and denial."
Much of what is written for the massage profession does not do justice to the extent of the therapeutic relationship and how it can actually influence the success or failure of a massage business.  It is also one of the hardest things to learn about just from a book or from massage school.   Supervision is really the best forum for discussing the client-therapist interactions that you have with YOUR clients.
The therapeutic relationship begins the moment a potential client begins thinking that they want to find a massage therapist.  The potential client is already thinking about seeking assistance for whatever issues they may be having – stress, physical pain or relaxation.  They actually may or may not even know about you.  They might just be looking online or just thinking about it at their desk or sitting on the sidelines of their soccer game.  The act of seeking help often brings up past relationship dynamics with others of power in their lives such as parents, caretakers, teachers and religious educators.  To put it simply and directly – people will often unconsciously think of you as their parent (person of power) and the dynamics of the relationship between client – massage therapist will be challenged by them (transference).  Unresolved needs and feelings and issues are 'transferred' onto the person of power – in this case the massage therapist.  The massage therapist will also have their own issues arise during the course of a massage which requires attention (counter-transference).  In real life regular friendships and romantic relationships also start in transference.
Transference is normal and will happen whether you are aware of it or not or whether you want it or not.  It isn't a bad thing like many massage therapists may start to think because of the small amount of time that is given to the topic in massage school.  Massage clients also have special vulnerabilities because of the fact that they also end up on the massage table in some state of undress and are not feeling well or are injured.  There are many signs of transference but often you will not really know if it is a case of transference.  Creating boundaries for yourself as a massage therapist is what allows someone who is in a state of transference to have a chance to see their own issues and is a major part of the healing process.
As a massage therapist, you will also have your own issues that come up when working so closely with people.  Counter-transferrence is when your own unmet needs, feelings and issues come into the client/therapist relationship.  It is basically unconsciously thinking that the client resembles a parent figure and we look to them to get our needs for recognition, appreciation and to be heard.  Since it is an unconscious process most of the time, it is important to work with a Supervisor to get your needs met outside of the client/massage therapist relationship.
The more you know your own values, needs and feelings and the clearer your boundaries are for yourself – the less problems you will have with difficult clients.  Some examples of simple boundaries you can create are those around things like cancellation policies and fees, hours of operation, creating dual relationships with clients (becoming friends with them or even dating clients), giving advice and sharing personal information.  The clearer your boundaries , the easier you will be able to make decisions that will support your massage business.  The more you let your boundaries slip like allowing clients to get away with not paying for missed appointments the higher your risk of Burnout and also failing in your career/business.
That last sentence above took me about 15 years to really understand and the process of creating and defining my boundaries took another 5 years or so and is actually an ongoing process.  The more I understood boundaries and learned about my needs, the less problem I had with problem clients (those who are late, don't show and are often called energy vampires by some massage therapists).   The clearer my values and boundaries, the more successful I became as a massage therapist.
Maintaining the Therapeutic Relationship
The therapeutic relationship is based on the massage therapists ability to stay present with a client and not judge, fix or otherwise hinder the client's process of healing. It requires that the massage therapist have a clear idea of what their own needs are and learn to get their own personal needs for appreciation, validation and to be needed met in other areas of their lives so that they can become and stay more present with the client for the clients healing process. Working within the therapeutic relationship requires that you be able to give empathy for the client. To be able to give empathy, one needs to have met their own needs for empathy first by doing the grief work that is related to not getting your needs met and working with a skilled peer supervisor or mental health counselor to rewire the brain and body for empathy.
Since so many of our needs are really unconscious, it is important to begin to become aware of our own needs and learn to take care of them outside of the therapeutic relationship so that we can become more present to witness the healing process in clients.
So often massage therapists find themselves crossing the boundaries between friendship and clients, wanting to fix a client, wanting to give more, getting paid less, giving advice and acting in other ways that will actually foster a client's dependence on the massage therapist. The massage therapist will often start sacrificing their time and energy in order to help a client or so they think. There is such a fine line between helping and when helping is actually hurting that it is near impossible to distinguish until it is too late. The massage therapist will end up feeling resentful, burned out, facing physical injuries/illness which may lead to career ending events.
The presence of a massage therapist depends on their own awareness of themselves and the reasons why they feel compelled to help. Our early childhood is where it all starts. Our self esteem is developed at an early age. We begin projecting our unrecognized feelings on others shortly after birth. When our early needs for nurturing, appreciation and acceptance were not met, we see ourselves as less than worthy and it is reflected in all of our actions and reactions. When our own needs for empathy and mirroring are left unmet from early childhood, they often get in the way when we try to help others. We can learn to be of service more when we take the time to receive the empathy that we need for ourselves.
As a massage therapist, we owe it to our clients to do our own personal growth work and fill in the holes left by the wounds of our past. Learning about ourselves and setting clear boundaries in a massage practice can take you much farther in building your practice than any marketing plan. The clearer you get about who you are, what you are doing and why, the clearer your relationships with your clients and potential clients.
Save